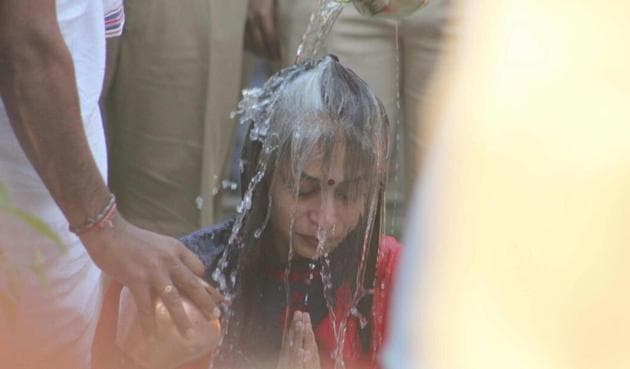 Sheena Bora murder: Indrani out of jail, performs father's last rites
Superintendent of Byculla women's jail confirmed that Indrani Mukerjea was taken out of jail at 7.30am
Hindustan Times | By Charul Shah and Sagar Rajput
, Mumbai
UPDATED ON DEC 27, 2016 12:18 PM IST
Following directives issued by the special CBI court, Indrani Mukerjea, prime accuse in the Sheena Bora murder case, was out of jail for one day to perform last rites on her father who died on December 16 in Guwahati.
Superintendent of Byculla women's jail Chandramani Indulkar confirmed that Indrani was taken out of jail at 7.30am on Tuesday. The rituals were performed in police presence at Brahman Seva Samiti hall in Mulund.
The court allowed Indrani to perform the rituals from morning till evening and allowed to choose a place of her choice for the same. The court , however, restrained her from speaking to media or any other person. It has also laid down a condition that she would not engage in any activities that would hamper the case.
Also read
Court allows Indrani to perform last rites of her father in Mumbai on December 27
Sheena Bora murder: Indrani wants to donate organs, 75% of wealth
Close