Shivaji memorial in Mumbai will pollute sea and damage coast, say experts
Dec 24, 2016 01:39 AM IST
Even though the Union environment ministry has allowed construction of Shivaji memorial in Arabian Sea, experts claim movement of boats from Nariman Point to the project site will lead to marine pollution and damage the coast
Even though the Union environment ministry has allowed construction of Shivaji memorial in Arabian Sea, experts claim movement of boats from Nariman Point to the project site will lead to marine pollution and damage the coast.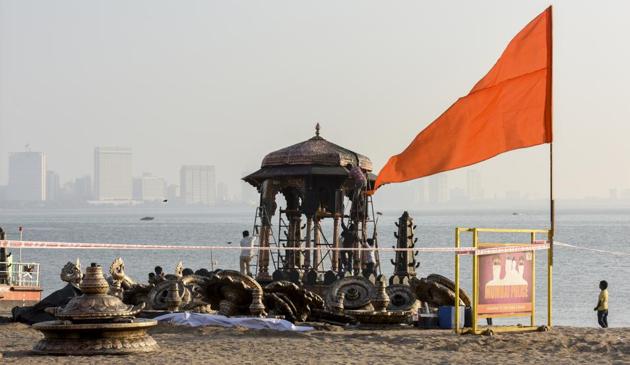 "As the project area is more than 15 hectares, it will affect fish and other marine biodiversity," said E Vivekanandan, senior scientist and marine consultant, Central Marine Fisheries Research Institute (CMFRI). "The boats are bound to cause a lot of pollution combined with fear of hazards like oil spills."
The state had earlier submitted the environment impact assessment (EIA) reports prepared by the National Environmental Engineering Research Institute (NEERI) and National Institute of Oceanography (NIO), outlining the impact of the project. "The reports give sufficient evidence, both scientific and environmental, and suggest mitigation measures to ensure protection of marine environment," said a senior official from the state government.
Vinay Deshmukh, marine biologist and former chief scientist of CMFRI, said the study had been undertaken only for two months (October and November 2013) before the reports were formulated. "The model does not depict the impact of the project during the four months of monsoon in Mumbai. Strong tidal currents and north-south reversal of currents could be disastrous for visitors," he said, adding, "While it is clear there will be large drop in fish catch, the report only mentions the species spotted during the two months of research, which is not sufficient."
Environmentalists said the state had not put together a disaster management plan for the project. "While there are plans for auditoriums and libraries during high tide and rise in moisture levels at sea, there is no plan to evacuate people in case of a disaster," said Anand Pendharkar, environmentalist. "The blueprint of the project does not reveal how the state would manage sewage, which if released without treatment, could be detrimental to marine life."
"There is a requirement for very high-level quality checks and specifications before starting the construction," said Pankaj Joshi, executive director, Urban Design Research Institute (UDRI) Mumbai.
READ MORE
Modi in Mumbai: Mobile signboards to help manage traffic