Small-scale industries hit big by notes ban
From engineering to electronics and logistics to garments, the smaller units spread in the outskirts of the country's financial capital in Thane, Bhiwandi, Ulhasnagar are waking up to realise that the cash crunch is going to hurt the business, which could take at least another six months to recover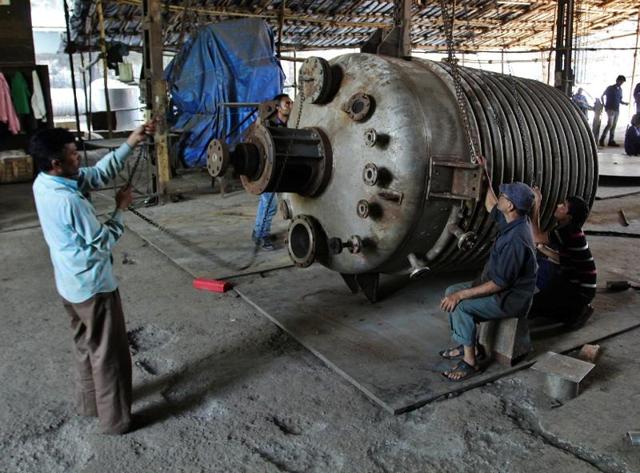 Published on Nov 24, 2016 01:01 AM IST
Santosh Kumar, a welder, who works in a small engineering unit in Wagle industrial estate, Thane, 20 km from Mumbai got his entire October salary this Monday. After Prime Minister Narendra Modi scrapped high denomination notes of Rs500 and Rs1,000 on November 9, just a day before the payment cycle for Kumar, he has been living off credit, scrimping on basic groceries and even afternoon tea. His big concern, however, is that even after getting his wages, he can't send any of it back home to his family in Azamgarh in Uttar Pradesh as has been the norm for the past 5 years. A fallout of the demonetisation drive is that depositing cash in his wife's account without her written consent is no longer possible. He holds no account in the city or even back home.
Santosh Kumar is one among the 1.25 lakh-odd labourers engaged in nearly 15,000 small and medium enterprises in Thane district, who have been facing the heat of the demonetisation drive.
From engineering to electronics and logistics to garments, the smaller units spread in the outskirts of the country's financial capital in Thane, Bhiwandi, Ulhasnagar are waking up to realise that the cash crunch is going to hurt the business, which could take at least another six months to recover. The story in Wagle estate, formerly one of the largest industrial enclaves in Asia, is replicated in most of such small and medium-sized enterprises (SMEs) clusters across the state that houses over 1.62 lakh such units.
"The cascading implications of demonetisation are likely to hit all small and medium enterprises affecting nearly 50 percent of our business. On one end there is just not enough cash to pay labourers or even to cover our overheads and on the other hand the slow down in the market will lead to cut down in our orders,'' said Jimmy Pauly, joint secretary of the Thane Small Scale Industries Association (TSSIA), who also runs a unit in Wagle estate dealing with rubber works. TSSIA has 3,000 odd members, which hire around 26,000 workers.
Pauly says it's naïve to think that the hit taken by the retail market, consumer durables would not ultimately affect units like his.
"We haven't seen cancellation in our orders yet, but yes we have got orders from clients to postpone deliveries meant for say November to next year. I think the PM's move is well intentioned but there is no denying that it has hit business,'' said Sandeep Parikh, vice president of TSSIA, who's fabrication unit supplies machinery to big clients like Larsen & Toubro.
Majority of the labour hired in these enterprises are paid through cash though many units do pay in cheque to their permanent labourers. Those paid in cheques have to allow for a loss of one day's of work to allow their labourers to withdraw their own money.
Migrant workers like Santosh despite staying in the city for the past five years have seen no reason to open an account here. They get paid around Rs400 a day as daily wages.
Raghu Nair, contractor who hires workers like Kumar has an outgo of nearly Rs3.5 lakh every month just in payments to the workers. The Rs50,000 withdrawal limit a week from a current account, he says, can meet some of his requirements at additional hardship, but even that kind of cash is not available with the banks.
"Traditionally, small and medium enterprises in Thane have banked with co-operative banks. And, these banks haven't been given enough cash. So, I have made trips to the banks with the finance ministry notification in hand but not got more than Rs10,000 at one go. To my workers, I have been disbursing little cash as and when I get it,'' said Nair.
Nair's big worry is that things will only worsen in December and while government says people can open accounts even now, banks have no man power to entertain such requests now.
For the small-scale industry it is wait and watch for now.
"The retail industry, small traders, businessmen and small scale enterprises have been the worse hit by this measure. We have made a representation to the state seeking measures to ease the situation but there is currently a sense of panic about the future road map by the government. The auto industry, retail, jewellery businesses are down and slowly the impact is being felt by all across,' said Dipen Aggarwal, vice-president Federation of Associations of Maharashtra (FAM)
Close Story
Personalise your news feed. Follow trending topics