Symphony Orchestra of India to perform for Mumbai's patients, senior citizens, offices
Updated on May 19, 2017 09:01 AM IST
All May, a string quartet (two violins, a viola and a cello) plans to visit venues across Mumbai and play short sessions to new audiences for free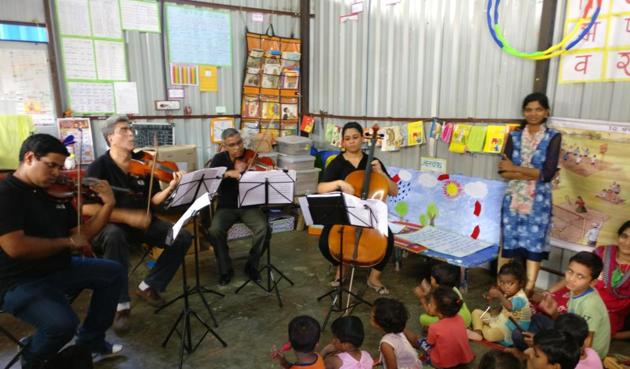 The Symphony Orchestra of India has been taking the concert out of the concert hall this summer.
All May, a string quartet (two violins, a viola and a cello) plans to visit venues across Mumbai and play short sessions to new audiences for free.
They've already performed Western Classical staples at a non-profit crèche in Mumbai Central, a hospital's cancer ward and a home for senior citizens.
By the end of the month, they'll have performed at a few corporate offices too.
"We've done one-off performances outside of concert halls before, but this is the first time we've run it as a month-long series," says Kushroo Suntook, the orchestra's co-founder and chairman of the National Centre for the Performing Arts.
It's a casual initiative created by the musicians themselves, he says. Cellist Bianca Mendonca says it's a great way to take classical music to those who wouldn't otherwise be exposed to it.
"I loved playing for the kids of construction workers," she says, of Thursday's crèche performance.
"They respond to classical music differently — they'll sit up straighter because it's music they haven't heard before. Their smiles light up their faces."
For violinist Prabhat Kishre and violist Mark Nunes, the highlight is when listeners respond to the songs they know. Five-year-old Kirti added vocals to Zoobi Doobi, from the 2009 hit 3 Idiots; other kids kept time on the crèche's drums and tambourine.
"Western classical music is some of the greatest music ever written," says Suntook. "First-timers unfailingly marvel at how lovely it sounds, and with initiatives like these, people can enjoy it on their own terms."
Plans for a monsoon quartet are being prepared. "We'll wear gumboots and play," jokes Nunes.
Personalise your news feed. Follow trending topics