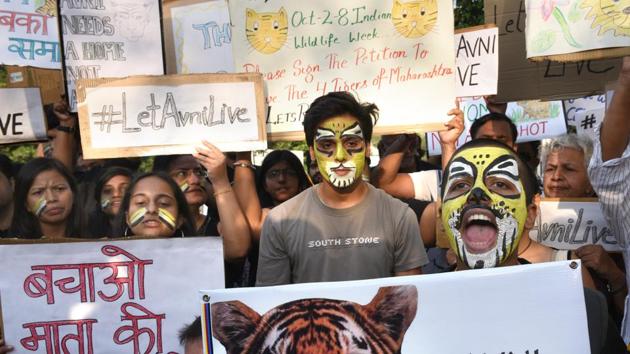 Tiger, not burning bright in Maharashtra
It seems rather a cruel act on part of any authority to kill a tigress with young cubs in cold blood even if she is believed to have attacked human beings in the past
UPDATED ON NOV 06, 2018 11:54 PM IST
The unseemly war between two ministers belonging to the Bharatiya Janata Party (BJP) over the killing of the tigress Avni in the forests of Yavatmal deserves more than just social media outrage.
Union minister for women and child welfare Maneka Gandhi in a tweet categorically blamed Maharashtra minister for forests Sudhir Mungantiwar of fostering hunters who supply guns to anti-social elements (read Naxals) and letting them loose in the forests to hunt down animals, including leopards, elephants and other wildlife.
She virtually charged Mungantiwar of corruption and threatened to complain to chief minister Devendra Fadnavis about his nexus with hunters and poachers. Her outrage was so strong that Fadnavis was compelled to promise a probe – and what he said in that statement gives much of the game away.
It seems rather a cruel act on part of any authority to kill a tigress with young cubs in cold blood even if she is believed to have attacked human beings in the past.
"The tiger is a gentleman (sic!) and does not attack human beings without reason," Fadnavis said. "We will probe whether she was killed first and then the dart inserted into her."
Indeed tigers do not kill or become man-eaters without reason. It is the depletion of forests that is bringing them more and more into contact with human civilisation. But in this instance, it is not just villagers pushing deeper into the forests (here they were sitting targets, defecating in the open). The Maharashtra government has just signed away a substantial portion of this very reserved forest in Yavatmal to a highly controversial industrial house, with a record of abject failures in almost all its enterprises, to set up a cement plant there. This would mean securing the jungles for human invasion and now many people, including Maneka Gandhi, seem to be suggesting that there was connivance between the Maharashtra government and the vested interests to clear the forests of dangerous animals.
Otherwise, Avni could simply have been trapped or tranquillised as most forest officers have done in the past and moved deeper into the same jungle or elsewhere. There is more than one precedent for the same. This is why allegations have risen that the tranquilliser darts were shot into the tigress after her killing — as a cover-up to support their claim of self-defence as she is said to have attacked them before they could effectively neutralise her with the darts.
Be that as it may, tigers, though, have not been safe in the jungles of Maharashtra for a very long time now. A couple of years ago, a magnificent tiger called Jai went missing from the Umred-Karhandla wildlife sanctuary near Nagpur and has not been sighted ever since. He is believed to have been killed by poachers. Similarly, a three-year-old tiger, believed to have travelled from the Nagpur forest range to Pohra-Malked in Amravati, has also not been seen since October 2017.
Tigers do walk for miles and migrate from one forest to another (some have been known to come to the Maharashtra forests from neighbouring Madhya Pradesh). But one fact, not heeded by the authorities so far, needs consideration. For a long time now, the tiger population in the forests of Gadchiroli has been dwindling because of the conflict they come into with many Naxal outfits — they simply become victims of the crossfire between the Maoists and police authorities. It is quite an open secret in those jungles but it has been in the interest of both the authorities and the Maoists to keep the fact as much under wraps as possible.
But the sadder fact is that tigers are also in conflict with the National Highway Authority of India that is laying roads through those jungles — tigers crossing those roads simply get squashed by heavy vehicles (as one did in Amravati last year) and disappear from the radar more often than not. Though some drivers do report the accidental deaths of wild animals, the disappearance of at least a dozen tigers for the past couple of years still remains unaccounted for.
However, nothing could be crueller than the deliberate killing of the mother of two tiger cubs and if Maneka Gandhi's allegation that Mungantiwar authorised the killing is true, it really takes a cold heart and colder blood to order such a trophy killing.
Accidental deaths or even killings by poachers are one thing. But being ordered to death by the authorities who are meant to protect the endangered species is nothing short of a murder, as Maneka Gandhi put it. Fadnavis thought she was too harsh with her words but it is about time someone spoke out the truth. The tiger deserves no less.
Close