Training programme for nurses in Maharashtra put on hold
The training helped 2.19 lakh nurses from the state get updates on modern medical advancements.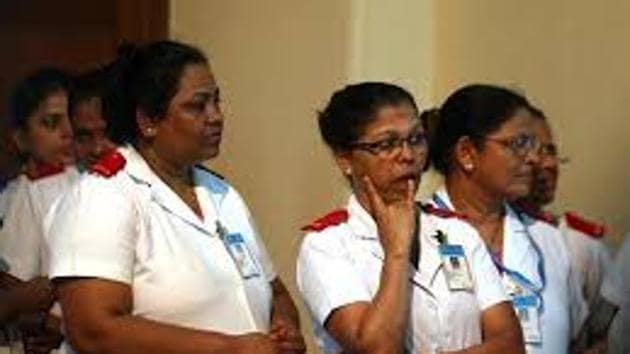 Published on Apr 16, 2018 10:11 AM IST
The state recently stayed the continuous nursing education (CNE) training programme on the grounds that a nexus between organisers and Maharashtra Nursing Council (MNC) was forcing nurses to pay Rs5,000-Rs15,000 for it.
The training helped 2.19 lakh nurses from the state get updates on modern medical advancements.
The state started the programme in 2016, in the backdrop of the age-old continuous medical education (CME) for doctors. Under the programme, nurses had to attend more than 150 hours of training over a period of five years to get their licences renewed. Over 25 health care providers – including a leading Australian firm Health Careers – with one in every district, had to ensure that one participant attended at least 2 to 3 CNEs a year.
However, state officials claimed there were major discrepancies in the functioning of the programme.
"I had attended a CNE inauguration in Nashik, where more than 700 nurses were invited. In a CME, we never allow more than 50 doctors to give personalised training. I had brought this to the notice of the organisers," said Dr Pravin Shingare, director, Directorate of Medical Education and Research (DMER), who recommended the stay.
Dr Shingare said several nurses complained to him about being asked to pay money for registration renewal. "The money was credited to the personal accounts of the trainers," he said.
Officials from the council said they never took more than Rs300 from a nurse. "From that amount, the organisers had to credit Rs20 to the account of the council as processing fee, and the rest were spent on training and snacks. If there were irregularities, an inquiry should have been initiated," said MNC president Ramling Mali. "Nurses have no other avenues to get training. We will ask the state to reconsider the decision."
State officials said the stay will be lifted after framing guidelines for the programme. "We have over 100 deans of nursing colleges in the state and other experts who should ideally be invited for the training, but the council always gets some self-proclaimed experts. The CNEs will start again, but only after necessary changes," said a top medical education official.
Close Story
Personalise your news feed. Follow trending topics