U-17 FIFA World Cup: While you suffer, Maharashtra plans pristine roads for 'foreign dignitaries'
Published on Jul 20, 2017 10:39 AM IST
Chief secretary Sumit Mullick tells agencies to ensure roads from airport to Navi Mumbai are pothole-free in October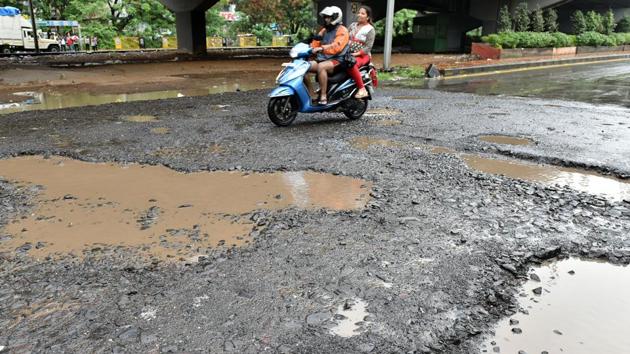 ​
The state government, which has consistently failed to improve the sorry state of Mumbai's roads, has gone a step further this monsoon season. While ordinary citizens are left to the mercy of substandard, pothole-strewn, scam-tainted roads, the government is working hard to project Mumbai as a world-class city for an international level sporting event - by making sure the roads that participants and "foreign dignitaries" are likely to use are in pristine condition.
At a meeting on Monday, state chief secretary Sumit Mullick directed road development agencies to ensure arterial roads between the international airport and Navi Mumbai were in good shape for the upcoming under-17 FIFA World Cup. The government hopes this will save itself from embarrassment. Despite several attempts, Mullick was unavailable for comment.
The tournament kicks off on October 6. Eight matches will be played at Navi Mumbai's DY Patil Stadium that month, including a semi-final. Officials of the Maharashtra State Road Development Corporation, which maintains the flyovers on the eastern and western express highways; the Mumbai Metropolitan Region Development Authority (MMRDA), which maintains the main carriageway of the two highways; and the Navi Mumbai Municipal Corporation, which maintains roads in the satellite city, were directed to ensure that roads under their purview were well-maintained and free of potholes as several foreign dignitaries would be attending the event.
A senior state bureaucrat, who did not wish to be named, said, "Since the matches will he played just after the monsoon, agencies have been directed to ensure that there are no potholes and a smooth ride is guaranteed for dignitaries."
Meanwhile, ordinary citizens will continue to face not just the inconvenience but the health hazard of pothole-ridden roads and highways. Both the western and eastern express highways were 'denotified' (reclassified as ordinary roads) and handed over to the MMRDA for five years after the Supreme Court banned the sale of liquor on the highways from April 1. By MMRDA's count, there were 353 potholes on the Western Express Highway between July 1 and July 10 and all of them were repaired. "During this period there was a dry spell and all 353 potholes were filled.
From July 11 to July 18 there were 70 potholes and 61 were plugged,"said Dilip Kawathkar, joint project director, MMRDA. He added that there were 212 potholes on the Eastern Express Highway as of July 18 and all of them had been fixed.
Close Story
Personalise your news feed. Follow trending topics