Wake up call: Indian forests, mangroves turning brown from green
Published on Apr 05, 2018 09:51 AM IST
55,02,860 hectare of forests which includes core forests have turned brown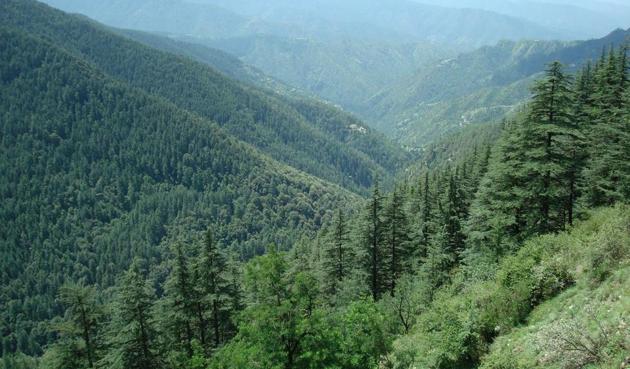 Rising temperatures and changes in land use are turning large fractions of India's core forests and mangroves from green to brown, a new study has revealed.
A four-member team from Hyderabad-based National Remote Sensing Centre (NRSC) of Indian Space Research Organisation (ISRO found that 46,35,580 hectare comprising 14 forest types in the country's core forest areas, including 41,480 hectare of mangroves, lost their greenness between 2001 and 2014. India's forest cover measures 7,08,27,300 hectare. In all, 55,02,860 hectare of forests which includes core forests have turned brown.
Additionally, 20 protected forest areas have also witnessed significant degradation with the highest (48,600 hectares) at the Similipal Wildlife Sanctuary, Odisha.
Researchers, not part of the study, said greenness of Indian forests have been declining since 2000, mainly in north-eastern India, Western Ghats and parts of Himalayan foothills. Browning of forests can lead to a loss of biodiversity so the policy-makers should work towards conserving the natural vegetation, experts said.
"Browning in the higher elevation forest areas is likely to be associated with increase in temperature, as warming has a tremendous effect over those regions. Land use and cover changes such as deforestation for agriculture expansion and urban sprawl are very important factors for the decrease in vegetation greenness in forest areas, considering the development scenario around those regions," said Sangeeta Sarmah, Institute of Atmospheric Physics, University of Chinese Academy of Sciences, Beijing, who was not involved in the study, in an email interview.
In March, Sarmah had co-authored a paper 'Satellite view of seasonal greenness trends and controls in South Asia' that attributed browning of forests to both climatic and anthropogenic factors.
"The long term impact of declining greenness includes climate change induced global warming, hampering the water cycle leading to desertification and ultimately causing biodiversity loss," said Sarmah.
The analysis found the highest decline in greenness over 20, 67, 350 hectares in tropical moist deciduous forest; maximum in Chhattisgarh, Odisha, Maharashtra and Madhya Pradesh (MP). This was followed by tropical dry deciduous 14, 07, 730 hectares, tropical wet evergreen (5,77,430 hectare), tropical semi evergreen (4,42,580 hectare), subtropical broad leaved (3, 21,130 hectare) and Himalayan moist temperate forest (2,93,800 hectare).
In core forests, more than 90% of the changes were recorded over wet evergreen, sub-tropical broad leaved, montane wet temperate, and Himalayan moist temperate forest types.
"Most of these protected areas belong to very fragile ecosystem and biodiversity hotspots. Any changes in the forest greenness or degradation of these areas lead to rapid deterioration of the ecosystem services. "The result of present study could provide first-hand information of prioritization and planning of conservation/restoration of the protected areas based on time series satellite observations," stated the study co-authored by Abhishek Chakraborty, MVR Seshasai, C Sudhakar Reddy and VK. Dadhwal.
With West Bengal identified as a hotspot for mangrove degradation over 41,580 hectares, greenness in mangrove forest decreased by more than 15.6% of its total area of 50, 550 hectares of which 83% was in core forest area.
"Forests and mangroves sustain a huge diversity of terrestrial and aquatic fauna and flora that are of direct and indirect environmental, social and economic value to mankind throughout the world," said Sarmah. "Browning likely causes great imbalance in these two ecosystems leading to biodiversity shift and ultimately to biodiversity loss. Eventually, it may have detrimental impact on the social and economic conditions in many parts of the tropical world."
Personalise your news feed. Follow trending topics