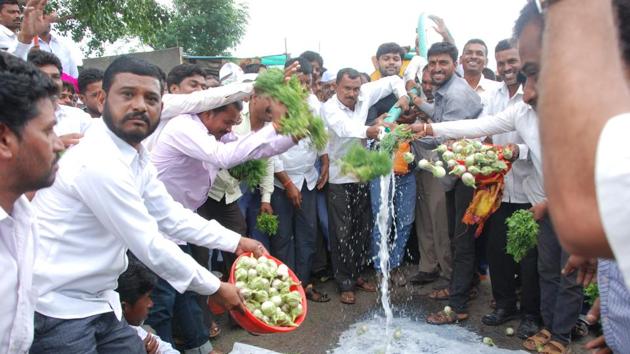 Mr minister, why shouldn't our farmers wear jeans?
Mumbai city news: The farmers' strike draws attention to the changing aspirations of those not so well off.
UPDATED ON JUN 06, 2017 07:40 PM IST
Nearly a decade before Narendra Modi lured aspirational India to his side, I got a very practical lesson from my mother's maid. I had scoured the markets of Dadar and Girgaum for a nav-vari saree as a Diwali gift for her. But when I presented it to her with great expectation of her appreciation for my efforts, I was utterly taken aback as she summarily rejected that beautiful cotton nine-yard saree. "I do not wear sooti (cotton)," she told me flatly. More modern fabrics like nylon was her aspiration and silk would have been a bonus.
But soon she was even rejecting the "kashtha" sarees that we were used to seeing maids in. One Diwali she expressed the desire for a "gol" saree – the usual five yards that the rest of us drape. Even my own maid who had been working for me for a decade went from washing cars in the building and gladly accepting hand-me-downs to rejecting the utensils amd clothes I tried to pass on to her recently. Gingerly wading through my clothes with one finger, she pulled out a chiffon dress and said, "If you can give me more of this, at least my younger daughter will be happy. They do not want the kind of cottons that you usually wear."
She soon left my employ after her older daughter, who had found a job as a housekeeper in a in SoBo hotel, insisted she no longer wash cars and utensils and moved her mother from a slum dwelling to what maids in Bombay refer to as "towers" – cement and concrete buildings with toilets inside the home. My new maid has asked me for jeans for her daughter and I have begun to realise that there is no line – except perhaps a bank balance – that divides the slum dwellers from those in high-rises or villagers from urban Indians any longer.
So I wondered how Hansraj Ahir, Minister of state for Home in the Modi government at the Centre, should not have caught on and understood the aspirations of a growing India. Responding to the farmers' strike that has put both the central and state governments on notice, Ahir contemptuously dismissed the striking farmers as "Frauds" because – hold your breath! – they were wearing "pants and shirts"!
"You cannot be wearing jean pants and T-shirts and pretending to be farmers," he said last week. That has added insult to injury as farmers were already angry with Chief Minister Devendra Fadnavis for what they believed was him taking them for a ride. Fadnavis had steadfastly refused to waive off loans of farmers and even a day before the strike got underway, he had been tough in stating if they stopped the supplies of milk and vegetables, the government could always bring these from neighbouring states. The import of the strike dawned upon him only when these supplies actually stopped coming into the cites and it was not quite easy to source the produce from other states as farmers, particularly in Madhya Pradesh which is a major source of vegetables, too resorted to a similar strike. The government then promptly inked a midnight deal on June 2, promising the loan waiver and hoping they would call off the strike. That did not happen, however. Farmers affiliated to the Kisan Kranti Morcha threw out the members they thought had been selling them short and even burnt an effigy of Minister of state for agriculture Sadabhau Khot, whom they blamed for misleading farmers and attempting to entice and lure some of their members with various forms of gratification.
When I spoke to a farmer from Kopargaon on the second day of the strike, his anger had been focused entirely on the chief minster. But now he is hopping mad that Ahir should think farmers in jeans and shirts are all frauds or that they do not have a right to the kind of clothing that the rest of India aspires to.
"Have these netas not gone from Gandhi topis and khadi pyjamas to suits and boots," he asked in great anger. "What do they expect us to be – living in mud huts and eating off the floors?"
In fact, there are very few farmers these days who might wear the traditional dhoti and pheta that Ahir probably expects them to. Tractors, which have replaced the traditional bullocks, are easier to ride in trousers and the farmers too wish to catch up with urban dwellers.
Their aspirations are not to be scoffed at.
Close