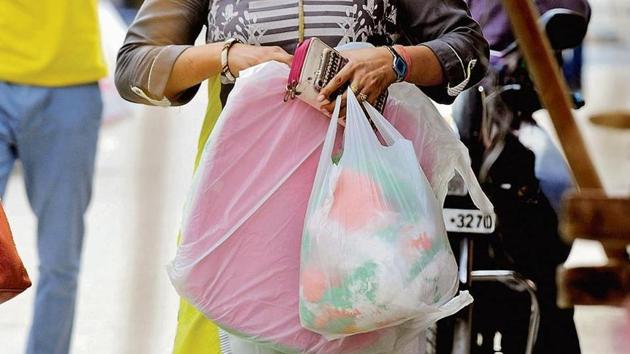 Will banning bags in Maharashtra solve our plastic waste problem?
Plastic may be convenient and one of the greatest discoveries of the twentieth century, but it is devastating natural environments
Hindustan Times | By Manoj R Nair
, Mumbai
UPDATED ON SEP 17, 2017 11:36 PM IST
Maharashtra has announced that it will ban plastic bags by Gudi Padwa, the state's New Year. The proposal was made after the realisation that the bags, discarded recklessly by citizens, are clogging storm water drains, and are one of the reasons for the severe flooding in August.
Will banning plastic bags stop Mumbai's drains from getting choked? Experts are sceptical. Almitra Patel, member, Supreme Court Committee for Solid Waste Management, said that a ban on plastic bags may reduce the problem but the effort involved in enforcing the ban will not be worth it. "I do not want to say whether banning plastic bags is a good or a bad thing. It is a partial solution to the problem."
Patel said that there is no doubt plastic bags are a big problem. Plastic sleeves are used to cover almost everything, from wedding cards to books. Plastic carry bags can be recycled, though the effort in enforcing buybacks from customers could be challenging. The metalised polyester bags, which are used to pack crisps, tea and other food, is not recyclable and poses a bigger threat, said Patel.
The metalised polyester film, which comprises of a metal film sandwiched between recyclable plastic, is unwanted by recyclers. "So what has to be done is to redesign packaging, or invent flexible packaging," said Patel who explained, "Multifilm food packaging is non-recyclable because its easily recyclable thermoplastic outer and inner layers now enclose a middle layer which chars at the softening temperature used by recyclers, thus blocking their cleaning screens every few minutes."
Plastic may be convenient and one of the greatest discoveries of the twentieth century, but it is devastating natural environments. One study by US academicians says that we have produced more than eight billion tonnes of plastic in the last seven decades and most of that have ended up in landfills or in the seas. The discarded plastic will take thousands of years to disintegrate and the study said that the plastic waste in our water bodies and soil are a "near permanent contamination of the natural environment".
The plastic does not remain there. As it breaks up, it creates microplastics – pieces that are smaller than five mm in size. It is killing marine life and choking land animals, but the microplastic is also getting into our drinking water. A study by Orb Media, a non-profit and the University of Minnesota School of Public Health, says that microscopic plastic fibres are found in taps, from United States to India. More than 80 percent of the tap water samples the researchers collected from five continents had plastic. The fibres come not just from the plastic waste that is breaking down in the water bodies but also released in the effluents from washing machines used to wash clothes woven from artificial yarn. The impact of these contaminants on health is not known.
"It is not just bags, now even fruits and vegetables and vegetables come wrapped in plastic. Can this material be switched with something that is bio-degradable?" asked Avick Sil from the Environment Policy Research Institute. "What about the packets used to sell gutkha? People are throwing them everywhere – what happens to them? What is the strategy to get them back?"
Sil said that large stores and malls have stopped giving away free plastic carry bags but this has not stopped people from using them. "People are ready to pay for the bags. This is because the bags are convenient. I am an environmentalist but there are times when I have bought a plastic bag because I forgot to carry one from home. If the government wants to ban plastic bags it needs to look at alternatives," said Sil. "Bio-degradable alternatives to plastics are a good idea but packaging costs could go up. The government needs to have a proper vision," said Sil.
There is hope. The Plastic Waste Management Rules 2016 says that manufacture and use of non-recyclable multilayered plastic shall be phased out in two years' time from March 18, 2016. That is the deadline for the Maharashtra government to ban plastic bags.
Close