Chain reaction: 50 bikers help Borivali cops chase down petty thieves
Updated on May 13, 2017 10:35 AM IST
For a month now, 50 men from various biker groups have been helping the Borivali police take on chain-snatchers, who have for long operated in the area with impunity.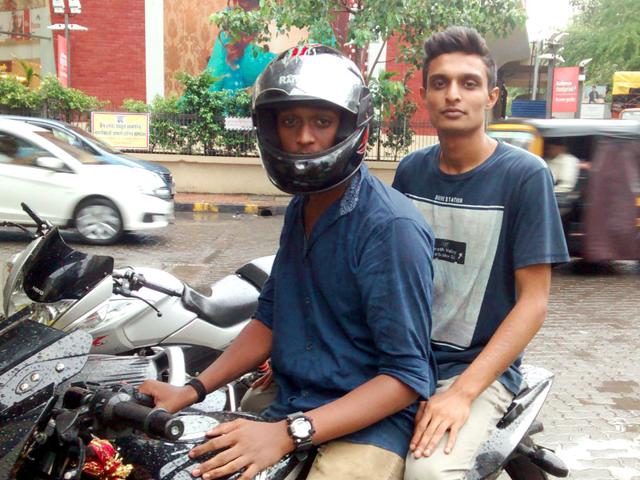 On a quiet evening in Borivali, a bike whizzes past vehicles lined up at a red light. It is quickly followed by another, unsurprisingly ridden by a man in his twenties wearing a t-shirt and jeans. What's odd about this scene is that the second bike has an unusual pillion rider – a policeman in uniform – and seems to be chasing, rather than simply following, the first.
People watching slowly realise what's happening – the first biker is a chain snatcher. What they don't know is that the second biker is a volunteer crime fighter for the Borivali police.
For a month now, 50 men from various biker groups have been helping the Borivali police take on chain-snatchers, who have for long operated in the area with impunity. The bikers patrol the suburb with policemen in shifts. They don't get paid for their work; what they do get is an identity card from the police and some tea and snacks at the police station between the morning and evening rounds.
The affluent western suburbs have always been a favourite hunting ground for chain snatchers. Borivali, which has easy access and a large middle-income population, is their first choice, according to an officer at Borivali police station. "The number of chain snatchings has continued to rise, and with more bikers escaping the police, we wanted to know how they managed to flee so quickly. We learnt that many of them ride vehicles that have been modified for extra speed," said a senior officer.
Realising that the their generic bikes were no match for these souped-up machines, the Borivali police turned to groups of professional bikers and chose 50 men to help chase down chain snatchers. Of these, 25 were brought in as riders, while the rest ride pillion with policemen.
"The bikers are posted at various points in Borivli (W) and each biker is accompanied by a constable. They have been trained to identify suspects. We have shown them the list of wanted chain snatchers in the area so they can easily identify our targets," said an officer from the Borivali police.
Among the group is a 20-year-old biker who is in his final year of junior college and wishes to pursue an MBA. But for now, he is focused on curbing crime. Asked how he manages to juggle academics and crime fighting, he said, "I can always find time to do something good. We have been doing this for almost a month now. It is a good feeling to help someone."
The Borivali police said the initiative has already shown positive results, with chain snatching cases down from the previous month. While 51 chain snatching cases were registered in Borivali last year, the first seven months of 2015 have seen only 15 chain snatching cases. The Borivali police are now in talks to replicate the initiative in other parts of north Mumbai.
Apart from bringing in some much-needed speed to tackle the problem, the initiative has also led to increased patrolling in the area. Senior officers, including the assistant commissioner of police, now begin patrolling as early as 6am.
The police have also put together a public announcement system and mounted it on a vehicle, which is driven around Borivali with a pre-recorded message that warns citizens about chain snatchers and urges them to be vigilant.
Close Story
Personalise your news feed. Follow trending topics