Deonar dumpyard is polluting Thane creek, says MoEF report
Hindustan Times |
, Mumbai
Laxman Singh
Apr 06, 2016 12:12 AM IST
Two members of a Ministry of Environment and Forest (MoEF) committee had visited the city on March 22 to investigate the Deonar fire. A report by the committee has raised concerns over the impact of leachate generated from the garbage on the quality of creek water.
While the frequent fires at Deonar dumping ground have increased air pollution, the dumping ground has also polluted the Thane creek and the ground water of the area, said a report by Ministry of Environment and Forest (MoEF).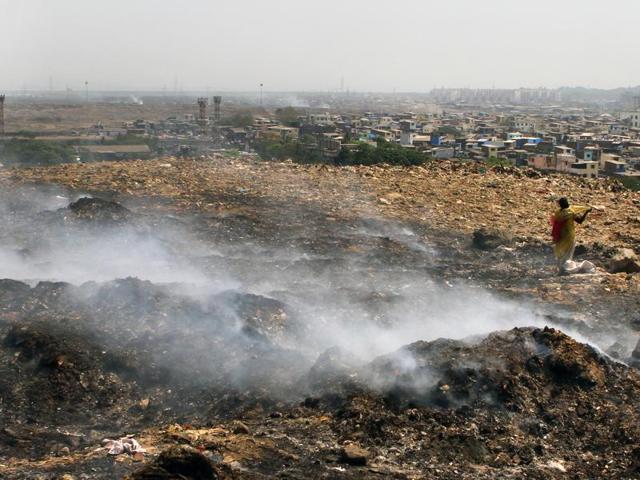 A summary report by a two-member committee of MoEF said the leachate, a liquid that drains out of landfill sites operational for years, generated from the garbage may have worsened the quality of water in the creek. Leachate is toxic in nature and generates a foul smell as well as bacterial contamination.
The committee, which includes E Thirunavukkarasu, scientist from MoEF and Prasoon Gargava, another scientist from Central Pollution Control Board, has observed that the garbage heap near Thane creek side of Deonar dumping ground has reached a height of 20-30 metres.
Read: Who is to blame for the mess at Deonar?
The Brihanmumbai Municipal Corporation (BMC), however, has not created a proper system to prevent infiltration of leachate into the creek and ground water.
The report, a copy of which is with Hindustan Times, said proper drainage should be provided to divert run-off water. It also said there are no studies on the exact impact of the leachate on the quality of creek water.
The committee has suggested that the civic body undertake bioremediation, a waste management technique which uses organisms to neutralise pollutants.
A senior official from the solid waste management (SWM) department said, "The scientific disposal of leachate will be also part of our action plan."
After the Gorai dumping ground was closed in 20, it was discovered that leachate was seeping into the Gorai creek.
"A seven-metre deep concrete wall had been built along the edges of the dumping yard and leachate was channelised into a processing tank to neutralise its toxicity," said another official. A similar plan might be prepared for Deonar dumping ground.
The Rafi Nagar end of Deonar dumping ground is facing leachate menace, said Dr Rahil Siddiqui, who is working for Rajiv Gandhi Arogya Yojana in the area. "Here, leachate formation is very common as the wall around the dumping ground is broken. During monsoons it increases and makes life of the residents miserable."
Meanwhile, the civic body has put perforated pipes into heaps of garbage for venting out methane gas as a temporary arrangement.
Deputy municipal commissioner Minesh Pimple said, "Methane-trapping wells or chambers will be created only after IIT-Bombay submits the design report. For now we have put around five perforated pipes at different locations."
"Exciting news! Hindustan Times is now on WhatsApp Channels
Subscribe today by clicking the link and stay updated with the latest news!"
Click here!