Who is to blame for the mess at Deonar?
Published on Apr 01, 2016 12:03 AM IST
Centre says focus on solving issue at the dumping ground as law does not allow govt to impose any punishment for failure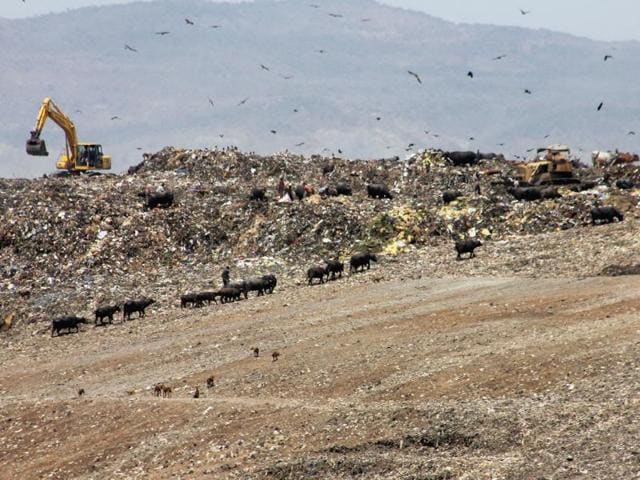 Ten notices for unscientific handling of waste in the past one year, one prosecution notice by the Mumbai Pollution Control board (MPCB), two major fires, two investigations and one high court order later, the city still does not know who or what has caused such havoc at the largest dumping ground in the city.
Prakash Javadekar, Union Minister of Environment, Forests and Climate Change, when contacted by HT, said, the law does not allow the government to even impose heavy penalties in such situations.
"Our focus is to resolve the issue arising out of the Deonar dump, which has been in the making for a long time. Who should we initiate criminal proceedings against and how will that it help at this stage? The MoEF will monitor the situation once the civic body comes back to it in three months with a plan for waste management."
Javadekar said, "I am working on the new draft law and it should be ready within a year, which will allow us to impose heavy penalties for such failures."
In response to fires at the landfill, the civic body filed an FIR suspecting sabotage and banned entry of rag-pickers inside the dumping ground from Thursday. However, until such a law comes into place, it is unlikely the civic body or other contractors would be penalised for such irregularities.
Also, to do away with the flawed bidding process in the waste management projects, the MoEF has given in-principle approval to form standard bid documents similar to those for projects in the energy sector.
The flawed bidding process had already become expensive for the BMC and is the main reason why the scientific disposal project at Deonar has been a non-starter for nearly eight years.
The BMC had suffered a flawed bidding process, inconsistent advice by a private consultant, cost escalations and finally,
the non-performance by the company assigned to manage the waste. To avoid the similar fate at the Mulund dumping ground, the civic body has appointed a technical team, which will work out the bid document, including parameters and scope of work.
Personalise your news feed. Follow trending topics