Govt to expand Metro network to MMR
Updated on Oct 25, 2015 12:39 AM IST
The state government plans to develop 172-km of Metro network in and around Mumbai by 2020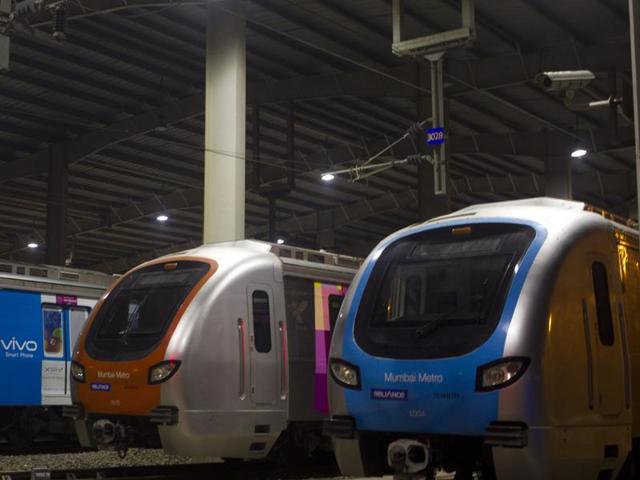 With plans to build an extensive metro rail network in Mumbai back on track, the state government is set to shift its focus to the Mumbai Metropolitan Region (MMR), which has struggled with poor transport systems for years.
The Mumbai Metropolitan Region Development Authority (MMRDA) will ask the Delhi Metro Rail Corporation (DMRC) to update the metro master plan for a metro network across MMR, which includes cities such as Thane, Navi Mumbai, Bhiwandi, Kalyan-Dombivli, Mira-Bhayander, Ulhasnagar and Vasai-Virar besides Mumbai's. The population of MMR, including Mumbai, is over two crore.
The past two decades have seen phenomenal commercial and residential development in these areas, but transport systems connecting them to each other and to Mumbai remain poor. The majority people who live in these cities travel to Mumbai for work and largely rely on overburdened local trains.
Now, MMRDA is set to revisit the metro master plan for MMR (excluding Mumbai), which was envisaged under the Comprehensive Transportation study (CTS) in 2008. Last year, MMRDA invited tenders to update the CTS as many proposed developments in it were not executed. It plans to build metro lines across MMR to connect areas such as Thane city, Kalyan and Bhiwandi.
There is also a plan to build a metro line along the proposed business corridor from Virar to Alibaug.
Recently, the state government discussed the possibility of building an underground metro line from Mankhurd to the upcoming Navi Mumbai International Airport (NMIA), which would also connect it to other important locations in Mumbai through the Dahisar-Charkop-Bandra-Mankhurd (Metro 2) project.
MMRDA commissioner UPS Madan said, "DMRC will take another look at the metro master plan for MMR. The objective of the exercise is to see if any new metro lines can be introduced or proposed lines modified to improve connectivity."
MMRDA had prepared the CTS in 2008 with the help of a research consultancy, LEA Associates, and the World Bank.
The CTS suggested various ways to upgrade existing transport systems and add capacity through metros, monorails, suburban railway lines and highways. DMRC has already updated the detailed project reports (DPR) for recently approved metro lines — Dahisar East-Andheri East (Metro 7) and Dahisar-DN Nagar (part of Metro 2).
Now, it has started updating the DPRs for Jogeshwari-Kanjurmarg (Metro 6), Wadala- Ghatkopar-Thane-Kasarvadavali (Metro 4) and BKC-Mankhurd (part of Metro 2). It will finish updating the DPRs of all metro lines in the city before moving on to other metro plans in the CTS.
Apart from the Versova-Andheri-Ghatkopar metro line, which is operational, and the under-construction Belapur-Pendhar metro line in Navi Mumbai, work on all other metro projects is yet to start.