India's largest warship, INS Visakhapatnam, unveiled in Mazgaon
Hindustan Times |
, Mumbai
Manish K Pathak
Apr 20, 2015 10:58 PM IST
Indian Naval Ship (INS) Visakhapatnam, the country's largest and latest stealth destroyer, was launched on Monday at Mazgaon dock.
Indian Naval Ship (INS) Visakhapatnam, the country's largest and latest stealth destroyer, was launched on Monday at Mazgaon dock. The first of the four guided missile stealth destroyers of Project 15-B class, INS Visakhapatnam was launched by Minu Dhowan, the wife of Chief of the Naval Staff Admiral RK Dhowan.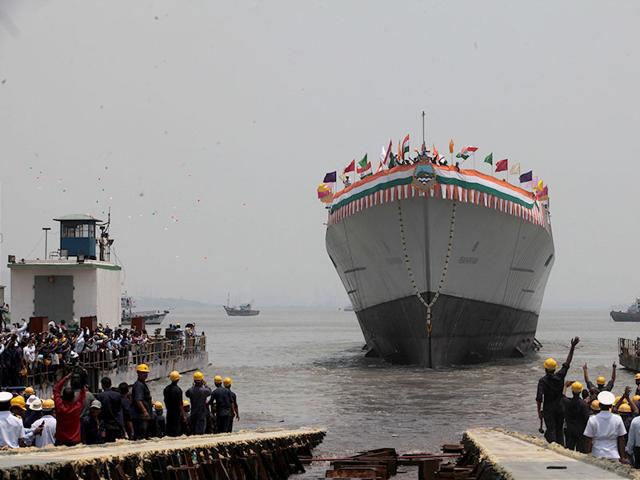 The Navy chief said there are 48 different types of vessels such as submarines, aircraft carriers, frigates and destroyers, which are under construction in the various public-private shipyards across India. "The shape of the hull of Visakhapatnam and its radar transparent deck will make very difficult for the enemy to detect the ship," he said.
"Our Navy's capabilities are dynamic and can meet all threats," Dhowan said. He said the close surveillance and monitoring is done in consideration to the security of the country as per threat perceptions and the Navy had an 'open mind'.
The officials said the ship is a follow on of Project 15-A of Kolkata class destroyers with enhanced features. Visakhapatnam will be the largest destroyer commissioned in the country and will be equipped with Israeli multi-function surveillance threat alert radar (MF –STAR). This will provide targeting information to 32 Barak 8 long range surface to air missiles onboard warship. This warship will be commissioned into the Indian Navy only in July 2018.
There are some important differences between the Navy's Kolkata class destroyers and the Visakhapatnam class though they share the same hull-design and Ukrainian-built Zorya gas turbines. The Visakhapatnam will be armed with a 127 mm main gun, while the INS Kolkata has a 76mm super rapid gun mount (SRGM). Both classes share the AK-630 close-in anti-missile gun system.
Dhowan shared the details about the indigenous capabilities for warship and equipment installed on the vessel. He Dhowal said, "We have achieved 90% indigenous capability on float segment, 60% on the move segment and 30% to 40% of weapons are being made in the fighting segment in India."
India's own sea beast
* Four ships are to be built as part of Rs 29,340-crore Project 15-B. INS Visakhapatnam on being commissioned to the Indian Navy
* The 163-m-long ship, to be driven by four gas turbines, is designed to achieve a speed of over 30 knots at a displacement of approximately 7300 tonnes
* This indigenously designed stealth destroyer will have state-of-the-art weapons, sensors, advance action information system, integrated platform management system, sophisticated power distribution system and a host of other advanced features
* Four 30 mm rapid-fire guns will provide the ship with close in-defence capability, while an MR gun will enable it to provide effective naval gunfire support. Indigenously developed twin tube torpedo launchers and rocket launchers will add punch to its anti-submarine capability.