Maha shies away from ban on sugarcane crushing in drought-hit Marathwada
Updated on Sep 24, 2015 11:09 PM IST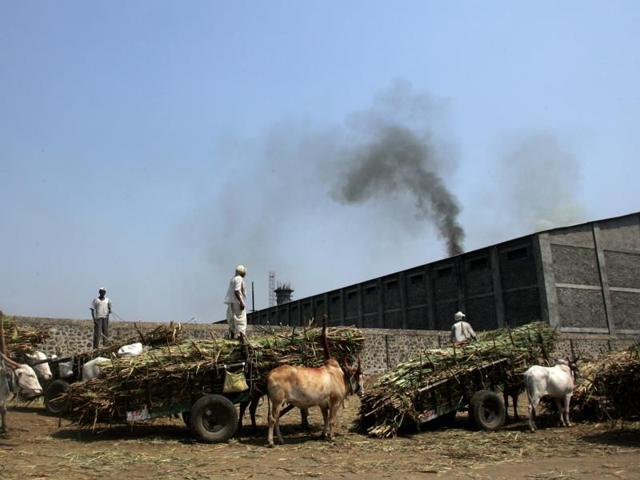 Contrary to the announcements and opinion of experts, the Maharashtra government on Thursday shied away from imposing a blanket ban on crushing of sugarcane -- a water guzzling activity -- in drought-hit areas of the state, specifically Marathwada.
Instead, at a meeting of a senior group of ministers chaired by chief minister Devendra Fadnavis, it was decided that sugarcane factories will be granted crushing licences by the district collector on a case-to-case basis, after ensuring the available water stock in the vicinity of the factory will last till July 2016.
While the decision, a first in more than two decades, to grant permission on a case-to-case basis is welcome, it remains to be seen how it will be implemented, as more than half of the functional sugar factories in the region are controlled by influential politicians.
Marathwada is facing water scarcity and untimely rain for the third consecutive year. The total available water stock of all its dams stands at 13%. While the recent rain has improved the situation from the earlier stock of 7%, it is unlikely to help the region tide over water scarcity till the next monsoon. To add to it, if crushing of around 120 lakh tonnes of estimated sugarcane yield is allowed in the 52 factories functioning in the region, the water stocks may deplete faster, even taking away the drinking water supply.
According to the estimate by the South Asia Network on Dams, Rivers and People (SANDRP), crushing of one tonne of sugarcane can take up to 1,000 litres. The figure remains debated, with some factories claiming it can be as low as 200 litres for one tonne. However, what everybody has agreed upon is that it is a water-guzzling activity, and plants with distilleries and cogeneration units, which is the case with most functional factories, consume even more water.
"Unless there is a proper procedure to grant permissions, there is every possibility that factory owners may use their political influence to get approvals from collectors. The state must make public the existing water stock in a district, along with the details of sugarcane factories and their crushing capacities. Sugarcane factories must have water treatment plants to recycle water. There should be a third party committee to grant such approvals,'' said Parineeta Dandekar, SANDRP.
However, there seems to be no such plan.
Politicians who control sugar factories in the region include rural development minister Pankaja Munde, former chief minister Ashok Chavan, state BJP president Raosaheb Danve, family of former CM the late Vilasrao Deshmukh, BJP legislator Subhash Deshmukh and former ministers Rajesh Tope and Jaiprakash Dandegaonkar (both NCP).
The state government, however, sought to justify its decision. "We decided against a blanket ban because in a year when farmers are hit by scarcity, they should be allowed to earn whatever little is possible from their crops. Also, the availability of water has improved with the September rain. A decision will be taken based on the available water stock, with priority to drinking water till next year," said cooperation minister Chandrakant Patil.
"Our water stocks can last up to December-end or January. It's unlikely that any factory can crush sugarcane this year in the district. Our average plantation area has also come down by half and the sugarcane yield is 40% lower," said Dr Prashant Narnaware, collector of Osmanabad.
Ashok Chavan, who controls at least four sugarcane factories in Nanded district, said there was enough water available after the rain in September to allow crushing in all his factories. "A majority of factories like mine are cooperatives, where farmers are stakeholders. How can banning factories be a solution? Make drip irrigation mandatory and give permissions on an individual basis," he said.
Sanjiv Babar, managing director of the Maharashtra State Federation of Co-operative Sugar Factories, however, said ideally all sugar factories barring 10 to 15 in Marathwada should be able to crush cane this year. "Although the yield has been less this year, we have the capacity to crush 120 lakh tonnes planted by farmers. Excess water is required only during the initial days of crushing and towards the end," he said, asking why no one was talking of saving water in cities like Mumbai, where every person uses 135 litres a day.