TISS-Mumbai next target but there will be no JNU-like situation: ABVP
Updated on Feb 27, 2016 07:20 AM IST
Even as the row over the Jawaharlal Nehru University (JNU) incident moved to the Parliament, the Akhil Bharatiya Vidyarthi Parishad (ABVP) has set its sight on Mumbai's Tata Institute of Social Sciences (TISS)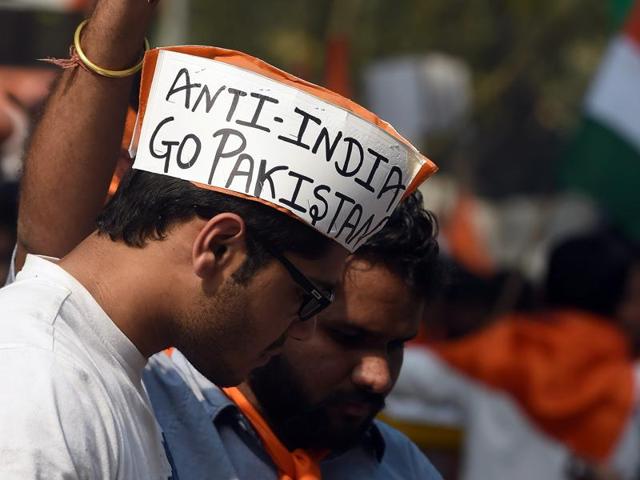 Even as the row over the Jawaharlal Nehru University (JNU) incident moved to the Parliament, the Akhil Bharatiya Vidyarthi Parishad (ABVP) has set its sight on Mumbai's Tata Institute of Social Sciences (TISS).
A statement by ABVP said that TISS will be their next target. "Of late, most of the incidents that have cropped up in education institutes across the country have been highlighting the presence of leftist organisations on campuses. We just want to make sure students don't get into politics when they should instead be focusing on their education," said Aniket Ovhal, Mumbai secretary, ABVP.
The ABVP, added Ovhal, will "target TISS", but there should be no worry that a JNU-like situation will be created in Mumbai. "We just want to ensure students don't fall into a trap, and at the same time understand the meaning of nationalism. No one will be forced, but we don't want TISS to turn into a battleground like JNU," he said and added that ABVP is also planning to reach out to students at the Indian Institute of Technology-Bombay (IIT-B) as well as other institutes and the University of Mumbai.
While TISS students have released a public statement, both condemning the alleged anti-national slogans raised in JNU campus as well as about the inappropriateness of the manner in which the student union leader has been arrested, currently, a video on JNU is making rounds on the campus.
"There have been varied views coming from various sources about the incident but we wanted everyone on campus to know exactly what happened in JNU, and only then form opinions," said a student who added that the video has interviews of students from JNU Students' Union, talking about exactly what happened on February 9.
"The entire debate of nationalism and anti-nationalism is vague because everybody is giving a different meaning to these terms. If I question the government about the falling Indian Rupee and compared the economic status of our country with another, will I be called anti-national too?" asked a student.
When HT spoke to the management of TISS, they stated that post the JNU issue, students of the institute had called for a general body meeting to discuss the concerns of student community on the developments in Delhi.
"Students and faculty members have been in dialogue and conversation on related matters allowing them to share their concerns and issues of the last few weeks. This open dialogue has helped students to discuss and understand the issues," said Shalini Bharat, deputy director (academics), TISS.
Close Story
Karnataka revenue minister quashes CM change talks

Accusing the opposition Congress of unnecessarily raking up the issue of Karnataka Chief Minister replacement, to cover up the rift within, senior BJP leader and Revenue Minister R Ashoka on Wednesday challenged the grand old party to name its CM candidate for 2023 assembly polls. Ashoka was reacting to Congress' series of tweets on Tuesday speculating aboutChief Minister Basavaraj Bommai'si being replaced and even calling him a "Puppet CM".

'Murder of democracy': Shiv Sena slams Maharashtra govt expansion in 'Saamana'

The Shiv Sena in its mouthpiece 'Saamana' on Wednesday slammed the coalition between the party's Eknath Shinde camp and Bharatiya Janata Party's Devendra Fadnavis, a day after the Maharashtra government expanded the cabinet. The party also took a dig at Governor BS Koshyari, who swore in the ministers at Raj Bhavan on Tuesday. The Saamana editorial further said that the people of Maharashtra will 'never forgive' the "defectors" for their "treachery".

Three more killed in rain-related incidents in Karnataka, death count above 70

Police in Karnataka's Chikamagaluru said Wednesday that three more people had died after heavy rain in the southern state's coastal regions, news agency PTI reported. The three deaths take the total number of deaths (in rain-related incidents from June 1) to over 70. The three who died in Chikamagalur did so in two separate incidents over the last 24 hours. The incident occurred in Thagalur village in Mudigere Taluk.

Ahead of Nitish Kumar's swearing-in, BJP stages protest in Bihar | Watch

A major political shift in Bihar that sent shockwaves to the Bharatiya Janata Party has now led BJP workers and supporters to call a sit-in protest on Wednesday ahead of Nitish Kumar's swearing-in ceremony as the state's chief minister. The Janata Dal (United) leader will take oath as the chief minister for the eight time today.

UNESCO team to visit Kolkata before Durga Puja on CM Mamata's invitation

The United Nations Educational, Scientific and Cultural Organization accepted an invitation from the Mamata Banerjee-government to participate in pre-Durga Puja celebration scheduled on September 1. In December 2021, the biggest festival in West Bengal got a heritage tag with the UN agency inscribing "Durga Puja in Kolkata" on the "Representative List of the Intangible Cultural Heritage of Humanity". Around 37,000 community pujas are organised across the state every year.
Personalise your news feed. Follow trending topics