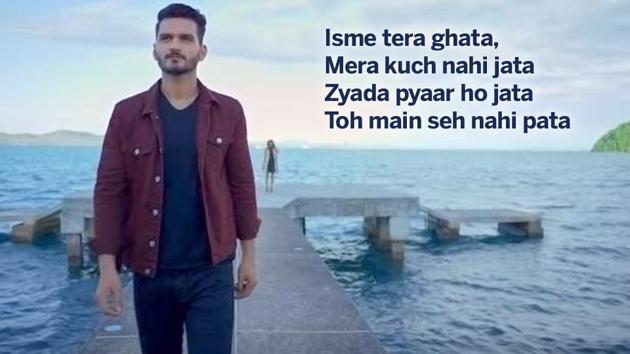 Tera Ghata song garners 88 million views on YouTube; the lyrics amuse social media
What made Tera Ghata song more popular is a spoof by four girls on musical.ly which is breaking the internet.
UPDATED ON JUL 29, 2018 04:38 PM IST
A new song by Gajendra Verma of the Mann Mera fame is going viral, inspiring many spoofs, and mash-ups of the original across the internet.
The lyrics go something like this, " ….. Isme tera ghata, Mera kuch nahi jata, Zyada pyaar ho jata, Toh main seh nahi pata"
The video has garnered more than 88 million views on Youtube since the album was released on May 18.
The song, which is shot in the exotic Ko Chang island in Thailand, tells the love story of a young man, beautifully capturing his emotions and passion. The unconventional ending sets this song apart from Verma's other music videos.
No doubt the slow melodious track appeals to the listener's heart, but the rhyming pattern in the song is its unique selling point. The song received mixed response on social media, with many sharing hilarious comments after listening to the lyrics.
"Such a magical voice yaar...Just love this song❤❤❤❤," wrote one user.
"Now its one of my favourite song.....i just love the tune of the song❤❤❤❤❤❤," commented another.
"A moment of silence for those lovers who gets emotional by listening to this," commented a user.
"I speak with my niece in same way as , Main Jata , Tum kia Khata , Main abu ko Batata, Tum nahin Durta and so on. ???????? I'm a genius or people's level of intelligence has fallen down," wrote another.
But what made this song more popular is a spoof by four girls on musical.ly which is breaking the internet with millions of views on Youtube, Facebook , Instagram and more.
While some have found the video humorous, others have lambasted the girls for obscenity and vulgarity of the content.
But this musical.ly video has no doubt made the four girls an overnight internet sensation and helped Gajendra Verma amass more views.
Last year, Verma's song 'Ik Kahani' had also become a huge hit with more than 27 million views and counting.

Close