Decline in quality of education alarming: Prez in Greater Noida
Speaking at a function organised by a university in Greater Noida, President Pranab Mukherjee expressed his concern over education in the country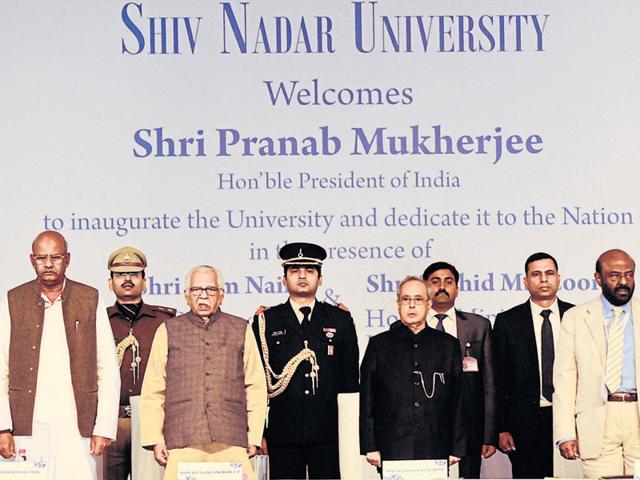 Published on Jan 19, 2016 01:31 AM IST
President Pranab Mukherjee on Monday expressed concerns over the "declining quality of education" and said if the trend is not reversed quickly, the nation will see a situation were people will have degrees but not proficiency.
Mukherjee was speaking at a function organised at Shiv Nadar University in Greater Noida to announce the name of the first NGO which will be awarded a grant of Rs. 5 crore. The grant will come from a corpus fund of Rs. 100 crore announced by HCL Foundation to support NGOs and individuals involved in social work.
The NGO, Going to School, was selected from among the six finalists for the grant. HCL founder Shiv Nadar said the foundation will provide the money within the next five years.
"Though proliferation has led to a greater access, its negative fallout on standards is alarming. If the declining quality of education, particularly in the area of higher learning, is not reversed quickly, we will land ourselves in a scenario of having a large number of people with degrees but not enough manpower with proficiency," said Mukherjee.
Governor of Uttar Pradesh Ram Naik was the chief guest of the occasion, while Uttar Pradesh minister of state for labour and employment Shahid Manzoor was the special guest.
The President said private institutions account for about 60% of the students enrolled in higher education. "We cannot afford to produce workers and professionals who fail to meet the skill levels required by a growing economic system. Hence, access to learning opportunities and the pursuit of excellence must both receive equal attention," he said.
The President expressed happiness that in 2015, two Indian institutions were, for the first time, figured among the top 200 universities in international rankings. He said he was confident that many more will join the two institutes in the coming years.
Governor Naik said on the one hand, India has a large percentage of people who do not pursue higher education and on the other hand, a large number of scientists and engineers in the world are Indians. That is one of the greatest challenges before our higher education system.
"Education is not just to get good employment but also to give employment. Please use the knowledge that you learn here in the service of your country," the governor said.
Shiv Nadar, founder and chairman of HCL and Shiv Nadar Foundation, said, "We are committed to our mission of nation building and empowering the youth. With our emphasis on multi-disciplinary learning, a student-centric approach and a strong focus on research, we are constantly working to play a key role in raising the benchmarks of India's higher education system."
Close Story