Ghaziabad Audi crash: Auto driver's pregnant wife refuses to believe he is no more
Updated on Jan 28, 2017 11:33 PM IST
Four persons were killed when a speeding Audi Q7 hit an auto on the Hindon canal road in Ghaziabad on Saturday. The three passengers and the driver were killed while the car occupants fled the spot leaving the car behind .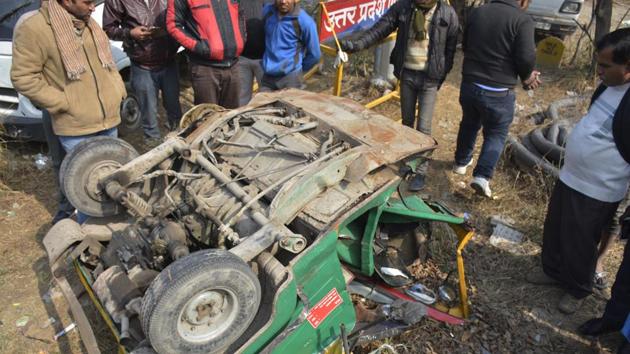 When Sanjeev Kumar, an auto driver in Ghaziabad, told his seven-month pregnant wife Madhu that he would be home to have dinner with her and their three-year-old daughter on Friday night, little did he know that fate had other plans.
The 25-year-old was among four killed when his autorickshaw – hired by the other three from Vasundhara in Ghaziabad – was hit by a speeding Audi Q7 near the Hindon canal late that night.
On Saturday, Madhu lay shattered at their residence at Naresh Vihar in Khoda, refusing to believe he was no more.
Around 1 am, tired of waiting, she had called him up, and was taken aback to hear a police officer ask her to give the phone to a male member of the family. She ran to Sanjeev's cousin, Sudheesh Kumar, who stayed in the next room, woke him up, and handed the phone to him.
"She is shell shocked by the incident. She is crying and not speaking anymore as she believes that her husband will arrive soon. She is still waiting for him as he had promised her that he will arrive soon and have dinner together," said Sudeesh.
Read: Three cycle-sharing stands show how pedalling can plug last-mile gap in Delhi
Sudheesh recalled that Sanjeev, who hails from Etah, had come to the capital to earn a living and had invested all his savings in the autorickshaw which he bought for Rs 1.2 lakh.
Besides his wife and daughter, Sanjeev, who is third among his ten siblings, also left behind his aged parents and a grandfather.
The police officials, who rushed to the accident site around 12.30am on Saturday, said that the victims lay dead near the auto while their belongings such as mobiles, slippers, lay scattered around.
"It was a horrible sight as almost all of them had head injuries and had bled profusely before they died," station house officer, Indirapuram, P K Tripathi said, estimating that they must have been lying there injured for nearly 10-20 minutes before a passerby noticed and called up police.
Read: Romancing at Talkatora: Delhi's Chashme Baddoor garden will be lovable again
Noting that there was no fog on the road close to the spot, he said the Audi driver must have been over-speeding, and lost balance before hitting the auto.
The SUV is registered in Delhi in the name of Dr Manish Rawat, an associate professor (neurology) at Safdarjung Hospital.
"Our teams are trying to track the occupant/s of the car," Tripathi said.