Greater Noida: Waste burning at weekly market is spoiling crops, says Dadri man
Burning of waste is a major source of pollution and is banned by the National Green Tribunal.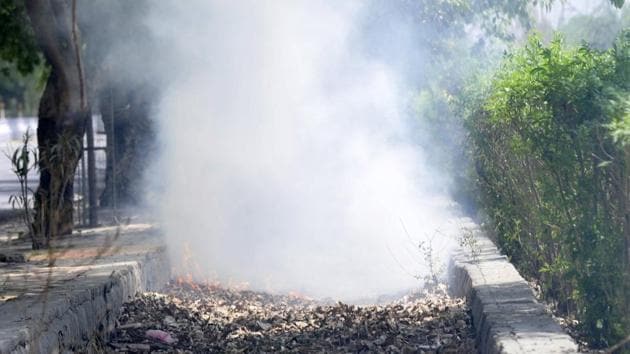 Published on Apr 19, 2018 01:56 PM IST
Hindustan Times |
, Greater Noida
Kapil Datta
A resident of Dadri has alleged that waste burning at the weekly market, permitted by Dadri nagar palika (municipal council), has been spoiling his crop as his field is adjacent to the plot where the market is held.
Complainant Sunil Kumar, a resident of Dadri, on Tuesday met the district magistrate at Samadhan Divas in Dadri and complained that Dadri nagar palika was holding a weekly market on a plot adjacent to his fields. He alleged that his crop was affected due to the garbage dumping and burning.
He also showed photographs of garbage dumping and burning on the plot, taken on his phone, to district magistrate BN Singh.
The DM immediately called the executive officer of Dadri nagar palika, Vandana Sharma. She, too, came there and heard his complaint. She said the photos were old ones and no garbage was being burned at the site in the recent past. She said the land where the weekly market is held belongs to the nagar palika and it has the right to hold a weekly market on the plot.
The complainant said though the land belongs to the nagar palika, the plot is meant for a public playground in the land records of the nagar palika and a weekly market should not be held there. He said though the photos are old, it shows garbage being dumped and burned near his field.
The DM said it is the duty of the nagar palika to remove the garbage generated by the weekly market and ensure that there is no garbage burning taking place. He said the smooth disposal of solid waste is the responsibility of nagar palika. Singh also suggested the raising of a boundary wall around the plot and installing dustbins at the weekly market. He further directed the officials to ensure that no garbage is burned.
"I have directed the staff to install dustbins at the site. Further, I have directed the staff to keep a watch and identify the person who resorts to garbage burning at the site," Sharma said.
Some residents also complained that streetlights on Dadri railway road were non-functional for the last two months. She assured the residents of an early resolution of the problems highlighted by them.
Close Story