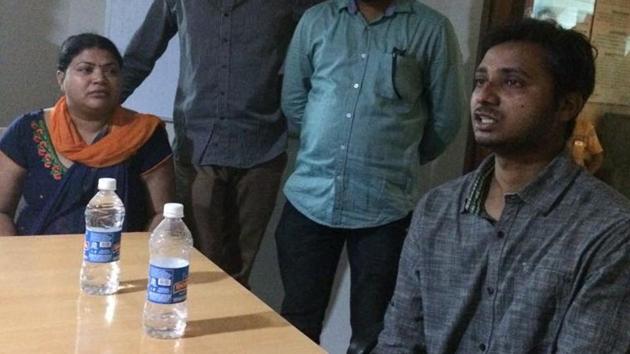 HCL engineer abduction: How a lapse helped UP cops solve the case
The kidnappers used the mobile of the victim to make ransom calls and switched it off after sending messages and videos. But they faltered once and the teams traced them.
UPDATED ON JUN 02, 2018 09:38 AM IST
A mobile phone that hadn't been switched off led the Ghaziabad police early Friday morning to a dusty room in Vasundhara, in Ghaziabad, where the 35-year-old HCL Technologies engineer who was abducted last week was held captive.
Teams of Uttar Pradesh special task force (STF) and Ghaziabad police arrested the three kidnappers, two of whom were injured during the arrest.
The police were finding it difficult to trace the kidnappers who used to only call from the engineer's phone, which they would switch on for the short calls. They demanded that the ransom be deposited into the abductee's account and used his ATM card to withdraw it from ATMs in several parts of Delhi.
READ MORE: 'Boarding a private car was the biggest mistake of my life,' says HCL engineer
On Thursday night, though, they made a mistake, according to a police officer involved in the case who asked not to be identified. Upset at not being paid as much money as they demanded "they started drinking and abusing the victim's family on phone and forgot to switch it off. As the phone remained on for long, one of our teams was able to locate them and they were nabbed."
The ordeal of Rajiv Kumar Singh, who works in Noida, began on May 23, a day before his birthday, when he was abducted from Raj Nagar Extension crossing on Delhi-Meerut highway. He was waiting to board a bus to Haridwar to be with his family on his birthday.
He boarded a car driven by the kidnappers, who offered to drop him off in Haridwar for Rs 250, but was soon overpowered before being taken to the Prahlad Garhi area in Vasundhara where he was repeatedly drugged to keep him unconscious.
Singh's wife in Haridwar soon received a ransom message demanding Rs 15 lakh through WhatsApp. The family paid a few lakhs in instalments.
"Since cracking the case was getting tricky, we sought help and roped in STF, apart from the crime branch," said Vaibhav Krishna, senior superintendent of police, Ghaziabad.
At Prahlad Garhi, the neighbours were clueless about the crime until Friday morning when the police raided the locality. Singh was found tied to a table in the room in a semi-conscious state.
"For several hours (after the rescue), I did not know where I was. I thought that kidnappers were taking me away somewhere in their car. As I regained consciousness, I found my family and broke down. It is a second lease of life for me," Singh said.
"He was found naked and all his limbs were tied to four legs of the table. He was kept in an inhuman condition during peak summer season. His body had become frail and we immediately evacuated him and rushed him for medical help," said Dinesh Yadav, in-charge, Ghaziabad crime branch.
"We were trying to get rid of the victim as the family was not sending the amounts we had demanded. We bathed him and also bought food for him. However, we had told him that he would be killed if he tried to escape. So he kept quiet," said Sharad Sharma, one of the abducters.
Sharma, who is from Ayodhya, Mahesh Mishra from Surat and Rinku from Hapur got together a year and half back.
"Their modus operandi was simple but safe. They would seek small amounts of Rs 40,000 or Rs 50,000 as ransom and withdrew these amounts from ATMs. But they only used the mobile of the victim and switched it off after sending messages and videos. But they faltered once and the teams traced them," said RK Mishra, deputy superintendent of police (STF).
During the crackdown, Sharma and Mishra sustained two bullet injuries each.
SSP Krishna said that the gang had also kept a man in confinement in April at Madhu Vihar in East Delhi and released him only after his family paid a hefty ransom. According to the police, they have so far uncovered details of 11 similar crimes committed by the trio.
Close