Noida: Amrapali director, CEO pay up dues, released
Published on Jul 25, 2017 11:47 PM IST
The two were in civil custody for failing to pay a cess of over Rs4 crore to the labour department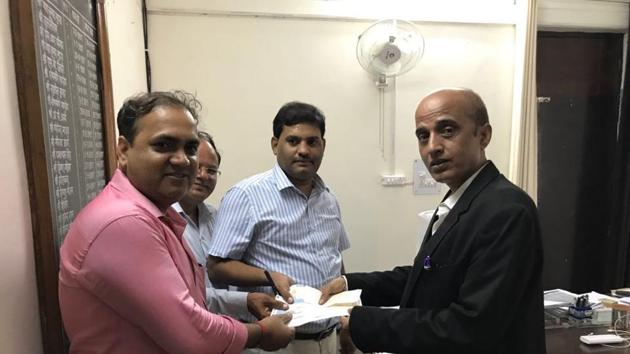 Hindustan Times |
, Noida
Preety Acharya
The director and chief executive officer (healthcare) of Amrapali Group were released from civil custody after they paid pending cess of Rs 4.29 crore to the labour department.
They were arrested by the Dadri tehsildar on Monday afternoon from their corporate office in Sector 62 for not paying the labour cess.
Director Nishant Mukul and CEO Ritik Kumar Sinha paid the amount through demand draft. The DD was submitted to the department concerned on Tuesday evening after which they were released.
"Had they not paid the money, they were to remain behind bars for 14 days. They have paid the required labour cess after which they were released following all procedures," said PL Maurya, tehsildar.
Ritik is the son-in-law of Amrapali Group chairman and managing director (CMD) Anil Kumar Sharma.
Family members of Nishant and Ritik visited them in the lockup earlier on Tuesday. The duo was served food cooked by an official and the money spent on their meals would be paid by them.
"Anybody who does not pay government dues can be put behind bars which is called civil custody. No police custody is required in such matters," said Maurya.
The duo was served several notices by the deputy labour commissioner of Gautam Budh Nagar to pay labour cess, which is meant for the welfare of labourers. But the group had been allegedly ignoring the reminders.
The arrests were made under Section 171 of the Uttar Pradesh Revenue Code. The tehsildar issued the arrest warrant on July 20 against three persons. Another director, Mohit Gupta, was to be arrested but he was not in his office at that time.
Section 171 of the Uttar Pradesh Revenue Code says any person defaulting on payment of an arrear of land revenue may be arrested and detained in custody in the tehsil lockup till the dues are paid but the period should not exceed 15 days.
Personalise your news feed. Follow trending topics