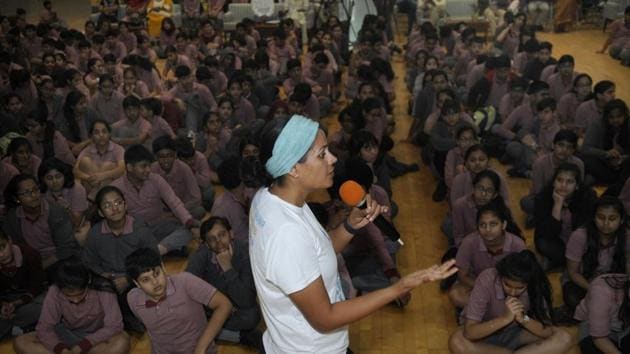 Noida: From Kanyakumari to Kashmir, Bakshi walks for women safety
Bakshi, who calls herself a humanitarian, philanthropist and walker, was in the city to interact with the students of Genesis Global School regarding their project "Crossbow" which is based on women safety and empowerment through digital and financial literacy
PUBLISHED ON FEB 27, 2018 11:57 PM IST
Thirty-one-year-old Srishti Bakshi is literally taking one step at a time towards women safety and empowerment. Bakshi has been walking across nine states, covering a distance of 2,800km, to spread the message of women safety.
She reached Noida on Tuesday after spending 166 days on foot.
Bakshi, who calls herself a humanitarian, philanthropist and walker, was in the city to interact with the students of Genesis Global School regarding their project "Crossbow" which is based on women safety and empowerment through digital and financial literacy.
"After covering nine states and 2,800 kilometres in 166 days, I have reached Noida. I intend to spread awareness in urban as well as rural areas regarding women safety. Boys and girls are the future of this country and they must be aware of the issue of women safety," Bakshi said.
Bakshi is on a 3,800km journey — from Kanyakumari to Jammu and Kashmir — covering the entire length of the country in 260 days. She started her journey seven months ago from Kanyakumari in Tamil Nadu where she and her team of 12 members have been collecting research data regarding socio-economic status of women in India and the issues they face.
Bakshi intends to submit her research paper to the Union ministry of women and child development after the completion of her journey.
"I might have ridden a bicycle or a motorbike but walking also ensured that I interact with people all the time. Till now, I have interacted with over 25,000 people from nine states of India. Even in Uttar Pradesh, I interacted with several people in Agra and Aligarh before coming to Noida," Bakshi said.
Two years ago, Bakshi, who hails from Dehradun, Uttarakhand, had different goals in life. She was employed in a corporate firm based in Hong Kong.
She claims that everything changed for her after she read the news about the gang rape of a mother and daughter in Bulandshahr along the highway by a gang of robbers.
"A mother and daughter were raped in front of the husband and brother on National Highway-91. I realised that women in India are not safe even when accompanied by their family members. In foreign countries, India is being stereotyped as a 'nation unfit for girls'. I realised that our image as a country is getting dented due to these issues," Bakshi said.
The ex-corporate turned a walker and started documenting stories of women and girls across the country. Bakshi says she has found many cases wherein the issues are the same across the states. Societal pressure for marriage, dowry and domestic violence are some of the issues that, Bakshi believes, need immediate intervention.
"A woman in Madhya Pradesh faces the same issue of dowry as a woman in Kerala. Similarly, domestic violence is seen in Bihar as well as Tamil Nadu as women are being subjugated for many centuries. In many cases, I have found that the girls who are ambitious in primary school lose their zeal by the time they reach class 12, mainly because of parental and societal pressure to get married," Bakshi said.
She said boys must be taught gender parity at a young age so that they do not discriminate against women.
"I often ask boys whether they know what their mothers wanted to become when they were young. We have to realise that a woman is a human being first and a mother later and that she, too, has ambitions," Bakshi said.
Schoolchildren also spoke for gender disparity during their interaction with Bakshi.
"People should change their perspective about women in both urban and rural areas. Many people think that women cannot achieve anything and that perception is wrong," Pulkit Chauhan, a class 9 student of Genesis Global School, Noida, said.
Close