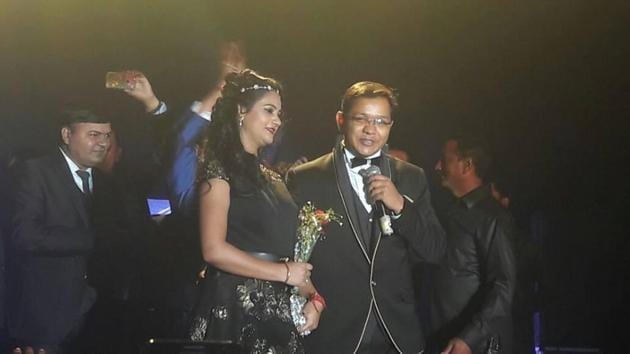 Noida ponzi scheme: Police file 35,000-page chargesheet against Anubhav Mittal, wife
UPDATED ON MAY 02, 2017 01:11 PM IST
The officials of a special investigating team (SIT), probing Noida's alleged Ponzi scheme scam, on Monday filed a chargesheet against six persons in a Gautam Budh Nagar court.
The chargesheet runs into nearly 35,000 pages and includes bank statements packed in boxes and case diaries, which were submitted before the court.
The officials said that the chargesheet was filed against Anubhav Mittal and his wife Ayushi, both directors of Ablaze Info Solutions, along with Anubhav's father Sunil, who was the former director of the company.
Three other accused chargesheeted include Ablaze Info Solutions company's CEO Shreedhar Prasad, technical head Mahesh Dayal and Atul Mishra, a relationship manager from a private bank.
"We have levelled sections of cheating, forgery and those under the provisions of Prize Chits and Money Circulation Schemes (Banning) Act, 1978. We have maintained that the officials of Ablaze induced people and tempted them into making 'quick and easy money.' The other inducement for the customers was to add more people in the chain down the line," said Rajiv Narayan Mishra, additional superintendent of police, Uttar Pradesh STF.
Barring Ayushi, who has obtained a stay on her arrest from Allahabad High Court, the other suspects in the case have already been arrested.
"Investigations have revealed that the company (Ablaze) had no other sources of revenue other than membership fee. This is a feature of all Ponzi schemes. Fees from all the new members was distributed to pay the old members. We have also included the liquidation of money into several other firms. The liquidation money runs up to more than Rs 10 crore and was allegedly paid in name of services. This amounts to siphoning of funds as there were no services found in physical terms," he added.
The chargesheet was submitted in the court of Additional Chief Judicial Magistrate's (II) court in Gautam Budh Nagar. After the court takes cognizance of the chargesheet, the complete set of documents will be provided to the accused after which the matter will head to trial.
STF officials maintained that Mittal has used his firm to allegedly cheat nearly 6.5 lakh investors of nearly ₹3,700 crore. Ablaze Info Solutions was in the business of promoting social media penetration and internet popularity for small-time businesses through getting maximum 'likes' on Facebook.
The officials added that this was the first chargesheet in the case, in which investigations was continuing. Police are trying to find the role of the 'core group' and 'think tank' behind Ablaze and also of certain gold and diamond dealers.
On February 2, the Uttar Pradesh special task force had arrested Anubhav Mittal, Shreedhar Prasad and Mahesh Dayal. Later, Atul Mishra was nabbed for allegedly entering into a criminal conspiracy with Mittal and providing him prior information about the bank's suspicious transaction reports, raids and investigations. Mittal's father Sunil was arrested on April 8.
Apart from the STF, the enforcement directorate is also probing the case on money laundering charges.
Close