Noida: Residents of Sector 123 protest against landfill site in locality
The Noida authority had recently decided to develop a waste-to-energy plant on 25 acres in Sector 123.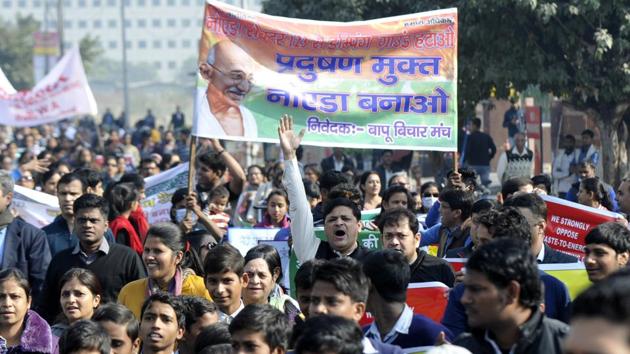 Published on Dec 08, 2017 10:37 PM IST
Hundreds of residents living in and around Sector 123 marched from Noida stadium to the Noida authority headquarters in Sector 6 in protest against the landfill site coming up in their area.
The Noida authority had recently decided to develop a waste-to-energy plant on 25 acres in Sector 123.
Residents wanted the chief executive officer (CEO), Alok Tandon, to meet them and promise that a landfill site will not be developed in their area.
The CEO did not meet residents but a delegation of the protesters met additional CEO RK Mishra. The meeting failed to resolve the issue between the authority and residents, as Mishra left the meeting after giving residents the authority's take on the issue.
Residents said they were upset with the officials after Mishra allegedly told them that the waste management plant will be a world-class facility and residents can go there for picnics.
"It is insensitive of the authority to say that residents can go for a picnic to a dumping ground. ACEO Mishra didn't answer any of our questions and left the meeting midway, after giving his version on the issue. We will not give up; we are ready to lie down in front of trucks to stop this site from coming up," Taran Dhingra, a resident of Sector 121, said.
However, Mishra said,"We can't succumb to the pressure of residents as our plant is going to be a world-class facility. Garbage will not be dumped but will be burnt to generate electricity. We are following NGT orders so there is no illegality in the matter."
"If residents do not want a waste treatment facility in Sector 123, then people staying in other sectors will also not allow setting up of a plant in their area. If we keep accepting such demands, we will never be able to come up with a waste-to-energy plant anywhere in this city. We have said multiple times that this plant will not create any problem for residents living nearby," said Mishra.
In 2013, the authority had proposed a sanitary landfill on 25 acres in Sector 123 to dispose of the city's municipal solid waste. However, the authority changed its stand and promised to shift the site when people living in sectors 119, 120, 121 and 122 filed a petition in the National Green Tribunal objecting the plan. Following this, the authority started dumping a major part of the municipal solid waste generated in the city on a vacant plot in Sector 138A.
In October, the NGT directed the authority to stop dumping waste illegally in Sector 138A and set up a waste-to-energy plant. This directive led to the authority revisiting its decision to use the Sector 123 site, drawing flak from residents.
"We all know the condition of the hi-tech waste-to-energy plant in Delhi's Okhla, which is causing pollution. When we asked about the technology, Mishra did not share the details and kept saying that the plant will be 'world class'," said Garima Tripathi, a resident of Sector 121.
Another resident, Sohan Mishra, said that the plant will make life difficult for people living close to the landfill site. "The plant will cause several problems such as bad smell, pollution due to the burning of garbage, etc. The authority is not concerned about our health and other issues," Mishra said.
Actor Raza Murad also took part in the protest to support the demands of residents. Murad told the media that he is with the residents on the issue and people have the right to lead a healthy and safe life. Murad was called by residents to support their cause.
Close Story