An oath and the start of an era
Updated on Jul 25, 2022 08:29 PM IST
On Monday morning in the Central Hall of Parliament, history was made as Droupadi Murmu took oath as India's 15th President, the first from a tribal community, the first to be born after Independence and only the second woman to hold the post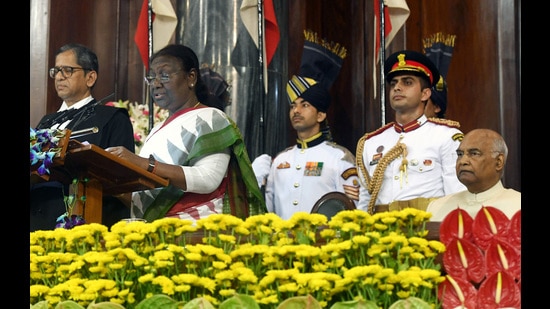 On Monday morning in the Central Hall of Parliament, history was made as Droupadi Murmu took oath as India's 15th President, the first from a tribal community, the first to be born after Independence and only the second woman to hold the post. Her elevation is a testament to the resilience of the country's Constitution and the bedrock of democracy it laid, which has survived, and thrived, despite a deeply unequal society and entrenched biases and prejudices hurting the quest of some communities for a life of dignity, empowerment and respect. That despite its structural weaknesses and eroding values, Indian politics retains the ability to engineer mobility for the marginalised is heartening, especially at a time when several countries are grappling with the perils of limiting political power to a small genetic and social pool.
As President, Ms Murmu will steer the country through a general election. Her role is clearly delineated in the Constitution and her stint as the governor of Jharkhand indicates she is well equipped to deal with any political instability, the only scenario where the Indian President exercises significant material power. More importantly, she will confront a country with sharpening divisions between the haves and have-nots, exacerbated by uneven economic development, reckless politicisation of social identities for electoral purposes and the scourge of the climate crisis. The last phenomenon that will test the President's abilities to inspire the country and her tribal brethren may be among the worst hit by falling groundwater levels, rapid industrialisation of pristine parcels of land and rising levels of deprivation of people displaced by increasingly common natural disasters.
The President's good offices will also be needed if the country decides to undertake an exercise to reshape and redraw electoral constituencies as per schedule in 2026. Of course, with the 2021 census still in limbo and previous delimitation deadlines deferred, it seems likely that the decision will be postponed. Yet, the pressures on the federal compact, increasing acrimony between the Centre and many states over revenue and jurisdiction, and fraying political understanding may also resonate in Rashtrapati Bhavan. And finally, in a world under churn, the President will act as an important symbol of the nation that is aiming to deftly navigate a changing geopolitical order and keep its interests secure, its friends close and its ambitions firm. In a country where the histories and culture of tribespeople are often erased and significant hurdles remain in their accessing health, education and employment, Ms Murmu's presidency will hopefully spark an interest in all sections of society towards greater equality, rights and empowerment. For both within the country and outside it, Madam President will have her work cut out.
This Independence Day, get Flat 50% Off on Annual Subscription Plans
Enjoy Unlimited Digital Access with HT Premium
Close Story
Personalise your news feed. Follow trending topics