Emphasise on art works that cause ardent dislike, unravel the reason
Aug 24, 2018 10:05 AM IST
The path of following a plotted blueprint is directed more from the position of protection during the early steps, rather than stifling one's instincts.
I received a mail from an old friend following last week's chapter wherein I kick started an on-going series on the essential how-tos of collecting art. She differed on the position I'd taken of following a game plan when collecting art, holding that it would be better to follow pure instinct than strategy.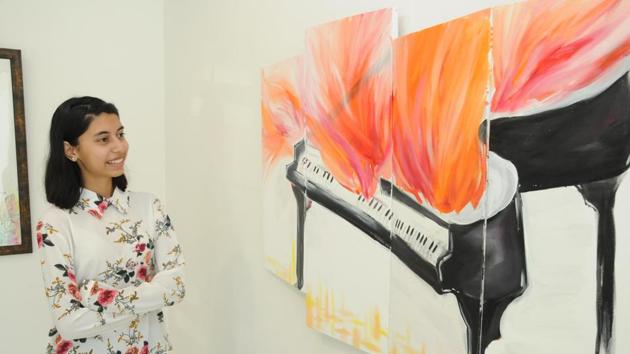 As a brief background, she has over the past two decades patiently and with a rare level of steadfastness, created a fascinating personal collection, despite not having ready capital on tap. I do agree with the role of instinct and following one's heart - these are perhaps what will come to be the driving tenet of any important collection.
Such faculties, as with all aspects that demand experience take a while to be firmly founded, and subsequently honed. One's instincts at the outset and during the early steps are, to place it mildly, a touch craggy, unless of course cultivated from a young age by virtue of the home one grew up in or the education offered. With exposure, engagement and interaction, this unsteady instinct will but certainly come to be refined.
My suggested path of following a plotted blueprint is directed more from the position of protection during these early steps, rather than stifling the faculties. As a collecting community, we are yet tiny. Most remain cautiously cynical, or largely indifferent to the scope, importance and validity of art in our lives.
A few missteps closer to beginning could lead to a premature closure of this relationship: that of the collector and patron with the market. A clear level of familiarity with the lay of this land, initiated at the outset would serve those starting out well. If however, your preference is to navigate these waters without a map, solely by following the direction of the wind, you can certainly dive right in. Though it's best to be prepared for what one should do when encountering a shark (or few). And there will doubtless be some.
Continuing with the ground rules, I'd mentioned the significance of introspection, and that of asking oneself a series of questions while, or after engaging with a body of work. While this is a process that over time becomes second nature, one should be keenly particular about this exercise during initial encounters. There will be a wide body of work that will effect barely any personal reaction, making absolutely no impact.
When you do finally find yourself staring at a canvas that has caused a clear reaction - positive, or negative, pause and take a few minutes to engage further. What was it about the work that caused this reaction? A simple set of self-directed queries can make all the difference: Did you dislike the work because it was abstract - with the form not clear and tangible / conversely, do you like the work because it is the finest realistic rendering that displayed the artist's incredible skill? Did the work disturb you because of the colour palette, or was the subject matter too unsettling for you? There's obviously adequate room for you to appreciate both, the monumental, as well as the miniature., the richly vibrant, and the monotonously drab, the aesthetically pleasing, as well as visually disturbing. From an art historical perspective: Most would instantly love Van Gogh's 'Sunflowers', but the powerful visual impact of Picasso's 'Guernica' is as universal, especially when considered in context of, and the reason it was painted.
Question all facets: the size, palette, style, subject, medium. Each has its independent value, and contributes in its own capacity to the presentation of the realised work of art. I would place extra emphasis on the works that cause ardent dislike, and unraveling the underlying reason. Clarifying your stance in regard with the works that unsettle reveal more about oneself than those that make one smile. With each encounter, and set of questions answered, you will find yourself becoming clearer and more confident about your stance vis-a-vis the multitudinous options available.
Your position might be, "…but Arvind, I already know exactly what I like, and what I detest. Why do I need to indulge in this infantile exercise?" This indulgence, though seemingly silly at the outset, will strengthen your bearings within the art world and over time, widen your range and vision - allowing for a heightened sense of appreciation, and a deeper, more comprehensive perspective. Like many who have over the years built an active relationship with art, you might witness a fascinating departure from that which you currently enjoy, to something that you had in the first place found unattractive.
Answering these questions tends to reveal much about our inherent nature, and in doing so, we realise this is also as much as a journey of self-discovery as it is about understanding why we like blurred flowers and not the colour crimson.
(Arvind Vijaymohan is the CEO of Artery India, a financial data centre focused on Indian art sales globally)