Encourage daughters to take up challenges, calculated risks
Jun 30, 2018 02:45 PM IST
There is no denying the rise in the number of crimes against young girls and women. Get her trained in martial arts and self defence techniques.
I was a tall and big kid in school. That automatically made me the butt of several jokes made in class during my early teenage years. But there was this one boy, who constantly kept ragging me and calling me by unkind names. Despite reporting to the teacher and myself warning him several times, he wouldn't stop. One day, I decided to take the matter into my own hands. I pushed him to the floor and punched him once.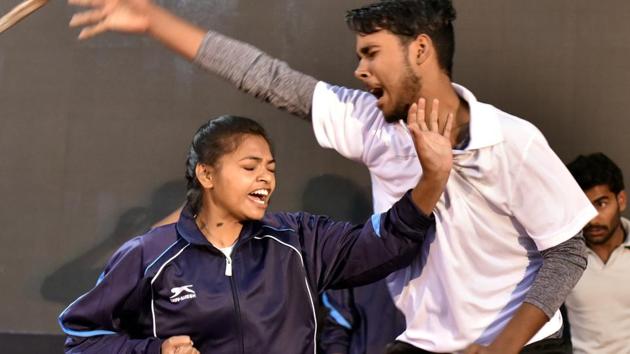 My father was of course immediately called to the principal's office. I was waiting outside. All I could see was, my principal was doing all the talking. Dad looked serious and didn't talk much. I knew I was in trouble. After stepping out of the meeting, dad just told me "Lets talk about it at home". I knew I was in big trouble. Later that evening my appa told me that he was proud of me and gave me that smile of approval. That meant a lot to me. I felt I could take over all the bullies in my class. I was thrilled that my father took pride in me and had the confidence in me that I wouldn't have done it unless it was much required.
It is often not the incident, but its how your loved one reacts to it, is what makes it special and memorable.
On Father's Day yesterday, I was recollecting memories with my dad that helped me become who I am today. I realise that he still has a strong influence on me.
I am putting together a few things that dads can do to raise strong independent girls
Teach her that household and parenting is a beautiful partnership: You will always be her first hero. So teach by example. Remember unless the partnership becomes a reality, when she grows up into a woman – either she will have to make a compromise or burn both ends of the candle to manage it all.
Real Life Female Role Models: While it is only automatic, that young kids today have their role models in movies or entertainment, it is extremely important that we help them connect with real life models. Encourage reading about them, their stories of accomplishment, the journey it took.
Place your confidence in her and let her know: We know dads get automatically programmed to become protectors of their children and more-so when it comes to daughters. But let that not cripple her growth & development. Encourage them to pursue challenging activities. Do take calculated risks.
Talk about equality: Let her know that this world can sometimes be unfair and that she must stand up tall and strong for what she deserves and is rightfully hers. Also let know that the change has begun. Today most boys are being raised empathetic and sensitive to gender issues. Reiterate its not the battle of the sexes.
Make her Gurugram-Ready : There is no denying the rise in the number of crimes against young girls and women. Get her trained in martial arts and self defence techniques. "Raise your daughter so strong, that she never needs a man to take care of her." This is one of my favourite quotes and I truly believe in it.
Many a things have changed for the younger generation. Many problems mentioned here might be passé or not issues at all. If so, then that is great. But remember that these changes have only touched a few and a part of the society. There is still a large chunk of the society fighting these social evils. Our daughters and sons can play a very important role in bringing about further balance in the society. So let the conversations keep going on.