Erdogan's India visit: Both nations used the trip to enhance economic ties
Official texts and speeches indicate some broad agreement on international terrorism, UN reforms, India's membership to nuclear groups, target of $10 bn. trade by 2020, possible areas of bilateral investment and a possible free-trade agreement (FTA)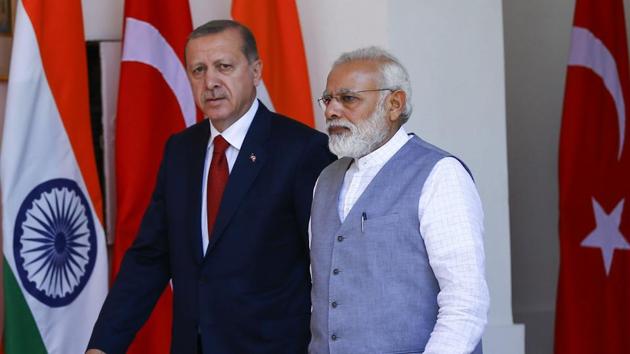 Updated on May 02, 2017 11:54 AM IST
Turkish president Recep Tayyip Erdogan's Delhi visit was keenly watched not just in India but also globally. This was his first foreign visit after the referendum victory, which gave him sweeping powers. While mentioning many similarities between Modi and Erdogan, the German News Agency Deutsche Welle described the visit through a headline - 'a Muslim nationalist meets a Hindu Nationalist'.
It is well known that Ankara-Islamabad ties are very strong. The Turkish position on Kashmir has been closer to Pakistan. Still, just before his Delhi visit, Erdogan created a stir in the Indian media while calling for a 'multilateral dialogue' on Kashmir with the possible involvement of Turkey. Knowing fully the Indian position on Kashmir, Erdogan was trying to show to the Muslim world that he cares about Kashmir. And he is not going to compromise even when Turkey was trying to further improve ties with India.
The visit could be seen in the context of changing geopolitical realities in Eurasia. On the one hand, Ankara is trying to become closer to China and Russia. On the other, increasingly closer India-US ties have resulted in suspicions from these very countries.
Both India and Turkey are keen to enhance their global positions. For long, Turkey had decided to be part of the Western military and economic alliance. Of late, however, there has been disillusionment, particularly with the European Union (EU). Turkey applied for the membership of the then European Economic Community in 1987 and signed a customs union with the EU in 1995. Although officially it is a candidate country since 1999, few in Europe believe in Turkish membership of the grouping in any foreseeable future. The refugee crisis in Europe and recent referendum in Turkey have created further tensions between some important EU member States and Ankara.
After New Delhi, the Turkish president is also visiting Russia, China and the US soon. These meetings are important for Erdogan to boost his standing amid growing allegations of increasing authoritarianism both within his own county and also in the in the West. Only last week, the Council of Europe voted to restart monitoring Turkey for crackdown on dissent, democracy, rule of law and human rights.
Because of the complicated nature of bilateral ties, the focus of his Delhi visit was on enhanced trade, investment, tourism, media, education etc. Official texts and speeches indicate some broad agreement on international terrorism, UN reforms, India's membership to nuclear groups, target of $10 bn. trade by 2020, possible areas of bilateral investment and a possible free-trade agreement (FTA).
With 28 strategic partnerships and 23 FTAs, Turkey considers itself as an 'emerging energy terminal and transit country.' Increased connectivity could bring India and Turkey together. New initiatives under the International North South Transport Corridor and energy projects could play an important role in the future. Both are active in Afghanistan and partner in the 'Heart of Asia: Istanbul Process.' Through increased development assistance, both are also emerging as significant players in development cooperation.
Despite keeping their known political positions intact, the visit was used by both countries to enhance economic opportunities between two important emerging economies.
Gulshan Sachdeva is Jean Monnet chair and professor at the School of International Studies, JNU
The views expressed are personal
Close Story
Personalise your news feed. Follow trending topics