Farm crisis is really a job crisis in disguise
Jun 19, 2017 02:02 PM IST
The money now going down the loan waiver drain needs to be re-routed to investments in farm infrastructure — irrigation, canals, cold chains, etc
It is difficult to miss the political or economic underpinnings of the current farmer unrest in Madhya Pradesh and Maharashtra, which could quite quickly spread to other states.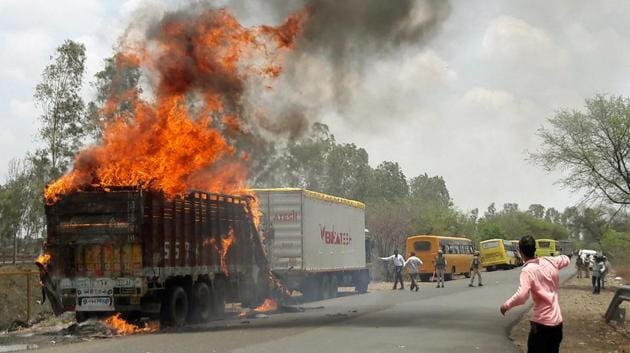 The politics fuelling the agitation is obvious: With the Narendra Modi-led BJP pummelling the Opposition in election after election, the anger in farmland has come as a godsend to political foes and even allies. Nothing exemplifies this better than the antics of the Shiv Sena in Maharashtra, which has been shouting from the rooftops demanding a farm loan waiver. It is fighting for its political survival as the BJP is eating its lunch in the state. Unlike Modi at the Centre, who can stand firm against loan waivers, his party leadership in various states is vulnerable to demands for loan waivers. And Devendra Fadnavis is giving in.
Unfortunately, it is the economics of farming that matters, and this is not going to change dramatically with or without loan waivers. In 2008, the UPA wrote off Rs 72,000 crore of farm loans, but this has not stopped demands for more loan waivers. Between 2014 and now, state governments — from Telangana to Andhra Pradesh to Tamil Nadu and Uttar Pradesh — have written off, or agreed to write off, nearly Rs 90,000 crore of farm loans. If Maharashtra agrees to write off another Rs 30,000 crore, it will add up to Rs 1,20,000 crore. And there could be more, with the Chhattisgarh government promising to waive interest on farm loans to the tune of Rs 3,200 crore. There could be a deluge of waivers as we head into the Gujarat, Himachal, Madhya Pradesh, Rajasthan and Chhattisgarh elections later. Put another way, if the last loan waiver was led by the Centre, this time it is the states that are leading the charge to bankrupt themselves in the name of obtaining a mandate for themselves.
Nobody is asking the question: If nearly Rs 2,00,000 crore of waivers between 2008 and now have not (and will not) put the distress in farming behind us, what will?
If cheap credit, free power (in many states), free water (in many irrigated areas), discounted diesel (for pumpsets), subsidised fertilisers and seeds, and higher procurement prices for foodgrain cannot make farming viable, what will?
If make-work schemes like MGNREGS and heavy investments in land acquisition for highway building and rural roads at four times market prices, as the UPA's Land Acquisition Act mandates, will not improve rural fortunes, what will?
The answer is that we are seeing the problem the wrong way. The farm crisis is really a job crisis in disguise. If the jobs growth problem is handled, the farm crisis will abate steadily.
Consider one simple number: Some 50% of Indians depend on agriculture, but agriculture accounts for only 15% of our GDP. This means agriculture is supporting more than three times as many people as it should. There are more mouths to feed for every acre of land cultivated than what the land can profitably produce. Is it then any surprise that farmers are angry over what they get as procurement prices and subsidies?
Evidence from some of India's other mini mutinies also merge into this narrative. Consider who all have been agitating for jobs and reservations. Over the last two years, we have seen the landed Patidars of Gujarat, the Gujjars and Jats of Haryana, Rajasthan and Uttar Pradesh, the Kapus of Andhra Pradesh, and the Marathas of Maharashtra resorting to agitations to demand job reservations. These are all castes that have in the past depended on agriculture for livelihoods. But instead of talking farm prices and subsidies, they are talking jobs reservations. Clearly, they know that their families have outgrown the farms they own, and now need to look for jobs. This proves that half the problem in farms has to do with excess hands who need to find incomes outside the farm.
But this is what has stalled in a world where manufacturing and agro-industry jobs are increasingly being mechanised, and labour laws militate against hiring more people. This is what needs fixing.
The road to farm rejuvenation involves increasing farm sizes (currently 85% of India's farmers are categorised as small or marginal) by allowing surplus labour to find other jobs, so that those who remain farmers can borrow and invest in raising productivity by adopting modern technology and mechanisation. The money now going down the loan waiver drain needs to be re-routed to investments in farm infrastructure — irrigation, canals, cold chains, etc. And yes, India needs to become one market for farm produce, by encouraging states to bring down the barriers to interstate movements.
Last, the Land Acquisition Act needs to be scrapped, and the focus shifted to creating a genuine market for land in rural areas. Most farmland near cities or highways now costs at least Rs 50 lakh an acre. Which marginal farmer will not sell his land at true market prices if he can earn an annuity income of Rs 30,000 a month without having to do any work?
The best way to serve farmers is to allow millions of them to exit farming, by allowing them to reap market prices for the one real asset they own: Their land. The UPA's land Act militates against easy encashment of this asset by making land prohibitively expensive for infrastructure-building or expanding urban growth.
R Jagannathan is editorial director, Swarajya
The views expressed are personal