India-Australia relations: Education as the tipping point
Updated on Apr 12, 2017 07:19 AM IST
Increasingly, Indian institutions are open to establishing strategic links with Australian institutions. Given recent global developments, Australia might emerge as the preferred destination for Indian students seeking quality foreign education.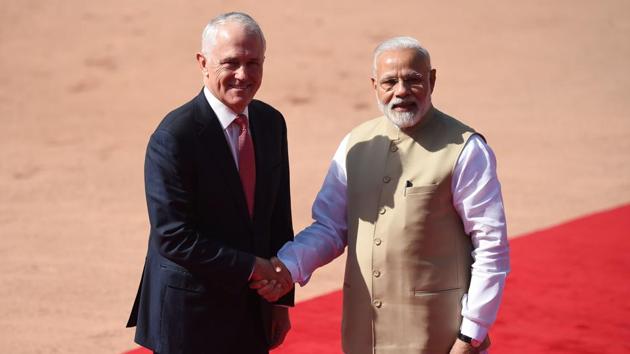 Amit Dasgupta and Shaun Star
Building on the momentum of Prime Minister Modi's 2014 visit to Australia, Prime Minister Malcolm Turnbull is currently on his maiden visit to India. Accompanying the Prime Minister is Australia's Education Minister, Senator Simon Birmingham, and Vice Chancellors from Australia's highest ranked universities, the Group of Eight. It should therefore come as no surprise that education is high on the agenda of this important bilateral visit.
One of the significant challenges that India faces is in higher education. Within the next three years, India will have the largest tertiary age population in the world and would have outpaced China.
While India has one of the largest number of higher education institutions in the world, quality issues, such as, poor infrastructure, archaic pedagogy and lack of quality faculty have adversely impacted learning outcomes and employability.
The Gross Enrolment Ratio in higher education in India was only 23.6% in 2014-15, in comparison to countries like Australia which stood at 86.6%. The government is targeting raising this to 30% by 2020. Should this happen, university spots for an additional 14 million students would need to be found and would consequently require the establishment of 800 new universities and 40,000 new colleges over the next three years! Quality would, most certainly, suffer as businessmen, inexperienced in the education field, scramble to benefit from the demand-supply mismatch and establish substandard institutions.
The government recognises that without a quality education and skilling programme, it would not be able to sustain its economic story or to take advantage of India's demographic dividend. Consequently, it has begun work on a new education policy, which would need to usher in reforms that are unprecedented in terms of urgency, magnitude or intensity.
Furthermore, Indian institutions have not, so far, invested in research. Even premier institutions like the IITs, the All India Institute of Medical Sciences, and others do not have a research tradition and consequently, fall far short of their counterparts across the globe.
This unique situation presents an extraordinary opportunity to lift the game and take the relationship to the next level during Prime Minister Turnbull's visit. Recalling Prime Minister Modi's words, in the Australian parliament, that partnerships require countries to stand together at a moment of enormous opportunity and great responsibility, if a partnership in higher education and research is unveiled, it would herald a transformative shift in bilateral relations.
Professor Ian Jacobs, Vice Chancellor of the University of New South Wales (UNSW), unveiled The Diya Initiative during his visit to India in November last year, through which UNSW would impact 1,00,000 students in India by 2025 through the medium of higher education. Initiatives of this nature need to be crystallised in the form of partnerships, so that Australia is not merely seen as an attractive higher education destination for Indian students but rather as an active participant in the India's aspirational quest.
Furthermore, the series of new initiatives announced by the Government, such as Swaach Bharat, StartUp India, Skilling India, Smart Cities, Digital India and others, offer significant collaborative opportunities between educational institutions in Australia and India as well as with the Indian Government and other organisations.
Increasingly, Indian institutions, and indeed the Indian Government, are open to establishing strategic links with Australian institutions. Given recent global developments, Australia might well emerge as the preferred destination for Indian students seeking quality foreign education. This presents a unique opportunity for Australian universities to think beyond student enrolments and establish long-term sustainable partnerships.
Additionally, India needs to recognise that her demographic dividend will only bear fruit if the new education policy can envisage the presence and participation of world class international universities in India to respond to the demand-supply deficit through the passage of the long-awaited Foreign Education Bill.
Never before in the history of India-Australia relations has there been such expectation and hope among so many that a new chapter in bilateral relations is about to be written. After decades of historic neglect and distancing, perhaps this is a relationship whose time has finally come, where collaboration in higher education and research could provide the much-awaited tipping point. To lose this opportunity would be a disappointing and strategic setback.
Amit Dasgupta is a former Indian diplomat, and Shaun Star is executive director, Centre for India Australia Studies, OP Jindal Global University
The views expressed are personal
Personalise your news feed. Follow trending topics