India can lead the way to deliver health for all
Digital identity technologies, like the Aadhaar biometric system, have to potential to change the lives of tens of thousands of children under the healthcare radar, by improving their access to immunisation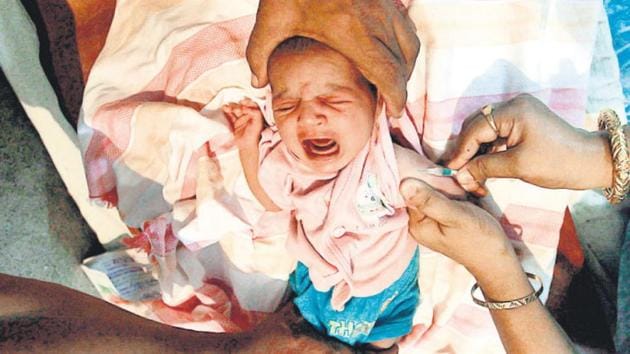 Published on Apr 20, 2018 12:43 PM IST
The recent revelation that 50 million social media profiles were misused to manipulate voters in the United States means we now have yet another reason to be vigilant about our online identities. However, rather than shunning technology, we need to embrace it. Because despite its potential to undermine democracy, digital technology could hold the key to safeguarding the voting rights for hundreds of millions of the most marginalised or disenfranchised people, while improving their health and prospects at the same time.
One in four children worldwide are born without their birth being registered. Across Africa, it's closer to one in two. These vulnerable children grow up living under the radar with no access to education, healthcare and, later on in life, the right to vote. Digital identity technologies, like the Aadhaar biometric system, have the potential to leapfrog the often archaic, paper-based civil registration systems, provided privacy and security are not compromised.
Aadhaar is a shining example of how access to government services can be transformed for vulnerable communities. For India this represents an opportunity to lead the way, not just in improving electoral systems across the globe, but also in helping some of the poorest countries in reaching their Sustainable Development Goals (SDG), by improving access to immunisation.
Currently around 80% of the world's poorest children receive all three shots of a diphtheria-tetanus-pertussis-containing (DTP3) vaccine. This is huge progress on previous decades and one of the main reasons childhood mortality has halved since 1990. But we still have a long way to go. We need to find new ways to reach more children with vaccines, such as the pneumococcal conjugate vaccine (PCV) and rotavirus vaccine. These combat pneumonia and diarrhoea — the two biggest childhood killers.
Improving civil registration in poor countries can make this happen. After all, we can't vaccinate children if we don't know they exist. But those children that are still missing out are by far the hardest to reach, which means we need to look at new ways of finding them. Digital civil registration is one powerful way of doing this, enabling every child to potentially have a unique medical record that follows them through life.
Here in India this transformation is already underway. Thanks to the political commitment to immunisation with initiatives like Mission Indradhanush and support from Gavi, the Vaccine Alliance, immunisation coverage in India has been steadily increasing. India now has the ambitious goal of increasing from 62% to 90% the number of children completing the full immunisation schedule.
A new smartphone system that is linked to Aadhaar is enabling auxiliary nurse midwives to pull up medical records of patients in the field using biometric data. A similar approach could potentially enable more children to be reached by enabling vaccinators to see exactly who is missing out. It is innovations like these that will enable India to succeed.
Prime Minister Narendra Modi, who is meeting world leaders in London at the Commonwealth Heads of Government Meeting, has already set India on a course to become a world leader of solar energy. Now he has the chance to do the same with digital identity technology.
Provided privacy and security remain sacrosanct, the potential to empower hundreds of millions of vulnerable people is simply huge. India has already transformed the global vaccines industry and there's now every reason to believe India can have as much success exporting its digital identity technology too, and, in doing so, help millions of vulnerable people protect their right to lead healthy lives.
Seth Berkley, CEO of Gavi, the Vaccine Alliance
The views expressed are personal
Close Story