Look West policy: Modi's three-nation West Asia tour was significant, historic
Updated on Feb 13, 2018 06:54 PM IST
New alignments have allowed India to dehyphenate ties with Israel and Palestine on the one hand, and forge independent links with estranged players in the region, such as Saudi Arabia, the UAE, Qatar and Iran on the other. King Abdullah of Jordan and President Hassan Rouhani of Iran will be in India over the next few weeks, signalling a continued Indian engagement with the region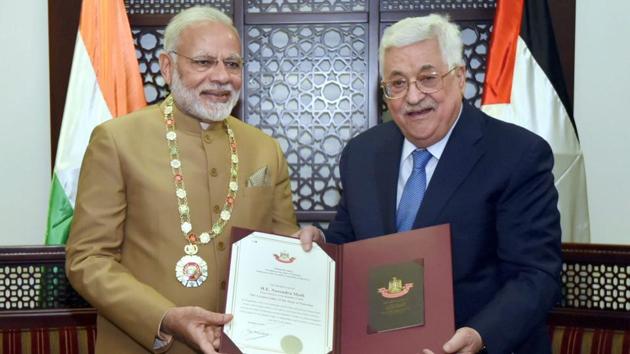 A hallmark of Prime Minister Narendra Modi's visits abroad has been the emphasis on plugging the gaps in engagement with the outside world, looking for renewed alignments, investment opportunities and diaspora outreach. As a part of this effort, Modi was on significant and historic visits to Palestine, the United Arab Emirates (UAE) and Oman from February 9 to 12. The transit, via Jordan, to Palestine, afforded an opportunity for discussions with King Abdullah on counter radicalisation and regional developments.
A traditional supporter of Palestinian independence, India has been extending financial support for its reconstruction, development, and institution building. During this first-ever visit by an Indian PM to Palestine, Palestinian President Mahmoud Abbas conferred the Grand Collar of the State of Palestine on Modi, the highest award in Palestine, reserved only for a select few world leaders. Palestine, which has turned away from a United States-led mediation, now counts on India to support a multi-country mechanism to realise the two-state solution. Modi stressed the importance of dialogue as opposed to violence, assuring Abbas that "India is bound by a promise to take care of Palestinian peoples' interests". Six new agreements worth nearly $50 million in areas such as health, agriculture, information technology and education were signed during the visit.
The next stop was the UAE. It was Modi's second visit there, highlighting the seriousness with which he is pursuing the Look West policy in the near neighbourhood. Home to nine million Indians, the Gulf Cooperation Council (GCC) has emerged as a strategically and commercially important region for India. Modi's vision of SAGAR and developing the blue economy with littorals in the Indian Ocean requires strong partnerships. Equally, a developing India has emerged as an important market for the Gulf oil economies, their aviation companies, a provider of appropriate and cheaper technology and human resources, resulting in enhanced accommodation on issues such as labour rights, technology transfer, and cooperation in counter terrorism.
Important MoUs related to the energy sector, railways, manpower and financial services were signed during the visit. Significant among these is the MoU between an Indian consortium (OVL, BPRL& IOCL) and Abu Dhabi National Oil Company (ADNOC) for the acquisition of 10% participating interest for $600 million in Abu Dhabi's offshore Lower Zakum concession for 40 years — the first upstream investment in the oil sector of the UAE by India.
The joint statement reiterated the intention to hold the first-ever joint naval exercises in the Persian Gulf, deplored terror and stressed the responsibility of all states to control "non-State actors" operating from their soil, a pointed reference to Pakistan. Modi addressed the Indian community at the Dubai Opera House and witnessed the ground breaking ceremony of the first Hindu temple in Abu Dhabi. Delivering the keynote address at the Sixth World Government Summit convened in Dubai, on "Technology for Development", he emphasised the role of technology for progress as opposed to destruction.
On his first visit to Oman as PM, he was received by the charismatic Sultan Qaboos bin Said al Said, the ruler of Oman since early 1970s, who is a student of former President Shankar Dayal Sharma in Pune. Staying neutral in the Yemen conflict, Oman has kept its options open in the intra-GCC conflict with Qatar, while maintaining close links with Iran.
Indian naval ships regularly visit Salalah and Duqm for operational turnaround while engaging in anti-piracy operations in the Gulf of Aden. Cooperation in trade and investment, energy, defence and security, food security and regional issues was discussed resulting in eight agreements in the military, legal and judicial cooperation, health, tourism and outer space sectors. While Adani Ports and Duqm Special Economic Zone Authority already signed an agreement in 2017, India would also like to use Duqm for logistics purposes. A highlight of the visit was Modi's address to 30,000 cheering members of the Indian community.
New developments and alignments in the world have allowed India to dehyphenate ties with Israel and Palestine on the one hand, and forge independent links with estranged players in the region such as Saudi Arabia, the UAE, Qatar and Iran on the other. King Abdullah of Jordan and President Hassan Rouhani of Iran will be in New Delhi shortly, signalling a continued Indian engagement with the region.
Anil Wadhwa is former Indian ambassador to Oman
The views expressed are personal