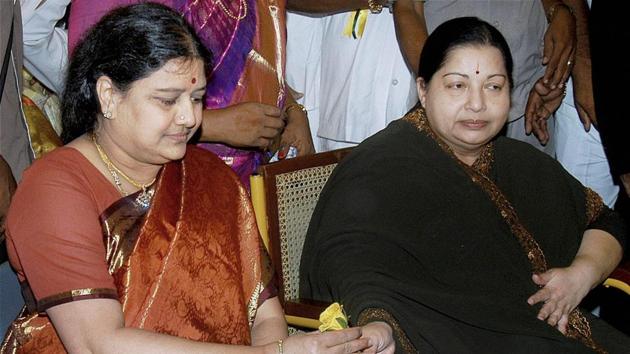 The future doesn't look rosy for the AIADMK
Neither Sasikala nor Panneerselvam has Jayalalithaa's charisma, and they are bound to stumble politically and administratively
By Mani Shankar Aiyar
PUBLISHED ON DEC 30, 2016 04:20 PM IST
The Queen is dead. Long live the Queen. Notwithstanding a minor challenge, the succession plan in Tamil Nadu has been smooth. J Jayalalithaa's companion Sasikala Natarajan is now the general secretary of the AIADMK and the former chief minister's personal pick O Panneerselvam is the CM. Those who expected a bloody succession battle might be disappointed. Jayalalithaa ensured a smooth transition by keeping Sasikala by her side during her illness and repeatedly nominating Panneerselvam to act for her when either the courts or illness forced her to leave office.
Such a smooth transition might not have happened had it not been for Jayalalithaa bequeathing four-and-half years of unchallengeable government power to her successors. For when in May she imperiously swept aside the Opposition to win the assembly elections, Jayalalithaa cleared the way, without quite knowing it then, to a well-orchestrated transition. Power is an effective bonding adhesive. Had she lost the May election or died when there were but a few months to the next election, there might have been serious infighting within the party. But with more than four-fifths of the term to go, it concentrated minds wonderfully and the move to the next generation leadership was assured.
Read: After Jayalalithaa's death, AIADMK appoints Sasikala as interim party chief
Panneerselvam has proved to be an effective CM. He avoids political controversy and seems to have little or, perhaps understated, ambition. Were he to flex his muscles beyond a point, the AIADMK leadership would certainly have little difficulty to swat the fly. But since he is low-profile and competent, Panneerselvam faces little threat from his rivals.
As for Sasikala, ever since fate decreed that she would start a small shop to loan VCR films, her destiny was made. Jayalalithaa was a regular client and a strong bond grew between the two "sisters". She was always at Jayalalithaa's side, fulfilling a psychological need of a lonely woman with a touch of paranoia whose hatred of gender injustice (real or perceived) required a female friend to guide her beyond the shoals of tribulation.
Sasikala's was by no means an easy task. She had to ensure that she remained number two and resist temptations to cross some invisible lines laid down by Jayalalithaa. At least once, she notoriously crossed that line, and found herself exiled from Poes Garden. How she returned, only she and her late friend know, but return she did and stayed by Jayalalithaa's side till the end.
Read: CM Jayalalithaa in hospital, her adviser is in Tamil Nadu hot seat
Sasikala also overcame the handicap of an ambitious husband: Natarjan is the archetypal political "fixer" who sometimes plays it straight but more often than not promises more than he can deliver. Consequently, he has a long line of disappointed followers who thought getting to know him was the key to reaching Sasikala and then the 'Puratchi Thalaivi' (The Great Revolutionary). Occasionally that would happen. However, the wiser ones took out an alternative political insurance policy.
Sasikala was also burdened by a ne'er-do-well nephew on whom Jayalalithaa doted. She fulfilled some surrogate maternal desire by organising his wedding, which was obscenely lavish. The DMK cleverly filmed the celebrations and repeatedly played it on their TV channel. The people of the state reacted most adversely to such a meretricious display of how remunerative politics can be by not only defeating the AIADMK in the 1996 assembly elections in every seat but one – and that one seat did not go to Jayalalithaa.
She was as ingloriously booted out as Kamaraj had been in 1967. But while the Congress never recovered from that blow, Jayalalithaa, trailed by Sasikala, was back in play within months. In 1998, she tilted the balance in favour of AB Vajpayee. In 1999, she tilted the balance away from him. She was both a king-maker and king-wrecker – and played out both roles with consummate skill. Sasikala stood beside and behind her – indispensable to the last. Triumph or disaster, Sasikala was always at hand, providing both personal and political succour to her leader.
Read: Medical bulletins on Jayalalithaa's health hide more than they reveal
In the course of playing No.2, she sometimes seemed to be the only channel to Jayalalithaa and this gave her a political aura and clout far beyond her real strength. Amma always had the last word – and her last word was often utterly unexpected. Yet, something of that raw power rubbed off on Sasikala and she came to represent real political strength.
Yet there was also always the suspicion that she was biased in favour of her community – the Thevars. If there is any credibility to that charge, she will have to mend her ways now. An AIADMK that is seen as not having place for Dravidians of all hues is not an AIADMK that will long survive the turbulent social waters of TN's politics. I think she will prevail because the pressures to avoid being seen as over-favouring her community will be strong. And she has enough political street-sense to understand that.
Read: Chinamma can never really fill Amma's shoes
But four and a half years is a long time in politics – infinitely longer than the one week that Harold Wilson had allotted it. Neither Sasikala nor Panneerselvam will attain --- or even aspire to attain --- Jayalalithaa's charisma.
They are also bound to stumble both politically and administratively. The challenge of the 2019 Lok Sabha election and the next assembly election in 2012 might send them tumbling. But for the moment, the succession is through and stability prevails both within the party and the government. For how long only the future can tell.
Mani Shankar Aiyar is a senior Congress leader
The views expressed are personal
Close