The Taste With Vir: 20 chefs I enjoyed meeting in 2022
Updated on Jan 03, 2023 11:06 AM IST
This is not a list of the best chefs. It is just a list of some particularly interesting ones I met last year and those whose food I particularly enjoyed.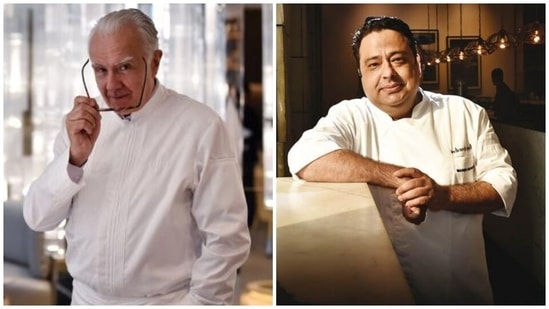 Here's my list of the chefs I enjoyed meeting in 2022 and those whose food I particularly enjoyed.
It is not in any order. This is not a list of the best chefs. It is just a list of some particularly interesting ones I met last year. My regret is that too many of them are male; I do hope we will see more female chefs come to the fore next year.
1. Gregoire Berger
A classically trained French chef, Gregoire has lived in Dubai for over 15 years now. His parents had connections to North Africa, his wife is Moroccan, and he loves Indian food. All of these influences go into his cuisine at the Michelin-starred Ossiano at Atlantis in Dubai. He is probably the best expatriate chef cooking in the Middle East and is a very interesting guy with a complex take on life and food.
2. Chef Pam
Her full name is Pam Pichaya Utharntharm but everyone calls her Pam. Pam worked in New York (with Jean-Georges) before returning to Bangkok to open Potong, which won a Michelin star within a year of opening. Her food is a modern take on Thai-Chinese cuisine and is absolutely brilliant.
3. Julien Royer
Julien is one of the world's great chefs and his three Michelin starred Odette is probably the finest restaurant in Singapore. But though it is always a privilege to eat at Odette I was even more taken with his cooking in the Maldives. He arrived with no preconceived notions, looked at the ingredients that were available on the tiny island and created a fabulous meal at Soneva Fushi. That's the mark of a great chef.
4. Alain Ducasse
I have eaten at Ducasse's restaurants around the world (his Monte Carlo flagship would be right at the top of any fair list of the world's best restaurants) so I was looking forward to meeting the legend.
What struck me about him as we chatted is that while he is outwardly a shy and reserved person, that exterior conceals an enormous volcano of passion when it comes to food. Chefs at his level often become businessmen but, despite the growth of his empire, Ducasse's primary passion is food. A remarkable man and the King of Chefs.
5. Mauro Colagreco
Mauro worked with Ducasse (as did so many of the world's great chefs) but he has gone on to create an empire of his own in just three or four years. His original South of France restaurant has three stars but wherever he opens, all over the world, he brings the same rigour and flair to his cooking. I last had his food when he cooked in an unfamiliar kitchen in Lake Como for my friend Sameer Sain's wedding. And even in those conditions, his food was worthy of a three star restaurant.
6. Manish Mehrotra
The best chef cooking in India. This year. Last year. The year before that. And indeed for the last ten years. And probably next year too.
Need any more be said?
7. Rishi Naleendra
He has a multi-cultural background: Sri Lanka, Australia and now Singapore. So Rishi's food defies categorisation. When his restaurant won its second Michelin star this year I was not surprised. It is hard for a South Asian chef to develop a distinctive international style that is entirely his own but Rishi has managed it.
8. Massimo Bottura
Because Massimo is so charismatic and so much fun to be with, we sometimes forget that he is also the most important Italian chef of the last several decades. Until he came along, Italian chefs used to Frenchify their food in an effort to win Michelin stars. Massimo was the first chef to teach Italians that if they took pride in their own traditions and their own cuisine they could create delicious food with integrity.
Also Read | The Taste With Vir: Truffle scam in India
9. Heston Blumenthal
One of my best meals of the year (actually, the single best meal) was at The Fat Duck in Bray. But that's not the only reason I admire Heston. What astonishes me is how he evolves from phase to phase: from science-based cooking to reinventing medieval dishes, to making the perfect versions of everyday dishes like fish and chips, to experimenting with the properties of water, to celebrating quantum gastronomy (the idea that there are few fixed outcomes and that food follows its own path) to writing, in 2022, one of the world's great cookbooks.
A genius.
10. Hussain Shahzad
I have watched Hussain's cooking develop over the years since he cooked at O Pedro, my favourite Mumbai restaurant to now, when he also looks after Bombay Canteen and is nationally celebrated. For my money, the best chef cooking in India, once you have got past Manish Mehrotra's formidable presence.
11. Bjorn Frantzen
One of the few chefs in the world to run two restaurants with three Michelin stars simultaneously, Bjorn was not particularly pleased when I said that he was all set to become the Swedish Ducasse. But it is true: he has a booming brassiere in Stockholm, a new restaurant in Harrods in London, a more modest restaurant in Bangkok and is all set to open two new restaurants at Atlantis in Dubai. He is very much the chef of the moment.
12. Gaggan Anand
Yes, he is back. And the food is even better than before. I have written about him in Rude Food this weekend so I won't say much more, here. But this much is clear: Chefs of his calibre emerge only once every generation. And they transform cooking as Gaggan has so clearly done.
He will cook in Delhi next month so more people will be able to enjoy his food.
13. Niyati Rao
She is in her early 20s so she could be the grand-daughter of many of the chefs on this list. But judging by the meal I ate at Ekaa in Mumbai, there is something special and promising about her food.
14. Chef Ton
He is best known for LeDu, the Bangkok restaurant that has had a Michelin star for years, but last year I ate at Nusara, his small (18 cover) restaurant in royal Bangkok which is dedicated to recreating his grandmother's recipes. It was easily the best meal of my trip. Ton is young, personable, gifted and has an international outlook. He will become world famous in this decade, I reckon.
15. Himanshu Saini
It is now clear that Manish Mehrotra regards Himanshu, his protégé, as his heir. It is a fair assessment. Each year, Himanshu grows in stature and his cooking gets even better. Everyone will tell you that his Tresind Studio is one of Dubai's best restaurants across cuisines. And many would argue that Himanshu is the future of Indian food.
Add to that the fact that he is one of the nicest, most decent, most sincere guys in the business and you will see why there is something special about him.
16. Saurabh Udinia
I did not know Saurabh at Indian Accent where he started out but I have followed his career from the Masala Library days to his triumphs at Farzi Café in London. What I admire about him is that he is effectively self-taught. If he sees a technique, he learns how to master it and then adapts it to Indian food. He has done that most successfully with fire-food at Singapore's Revolver. His versatility and creativity make him one of the best Indian chefs of his generation.
17. Mano Thevar
At present, he is the only Indian chef whose Singapore restaurant has two Michelin stars. Mano's Indian food is precedent-shattering because it breaks national boundaries. Mano grew up in Malaysia and the food he serves is the food of one section of our diaspora, something few Indian chefs have the guts to do. Despite the Michelin stars, he remains low key and humble.
18. The Suhring Twins
I've known the Suhrings from their early days at Mezza Luna and watched how they have gone on to run a two Michelin star restaurant of their own. But what really impressed me last year was when they did a pop up in Bangalore. They recreated the flavours of their Bangkok menu almost exactly and wowed Bangalore. I know how hard it is for chefs to work in strange kitchens and to cook for unfamiliar audiences. But these guys are pros. They maxed it.
19. Sahil Mehta
Sahil is a low-key French-trained baker whose astonishing pastry creations keep Delhi's foodies raving. He hardly ever gets written about, so his popularity and his full order book are entirely due to word-of-mouth recommendations.
One of India's very best bakers.
20. Doma Wang
It's a small unpretentious restaurant in Kolkata but Doma Wang and her daughter oversee a kitchen that turns out what they call "Himalayan food' of outstanding quality at the Blue Poppy Thakali. Everyone goes for the momos. But I agree with Gaggan Anand. Go for the Chilli Pork Fry. It is a world class dish.