The Taste With Vir: Travelling to Bangkok? Eat a reasonably-priced meal at these mall restaurants
Published on Jan 17, 2023 10:19 AM IST
Most times when I am in Bangkok, I eat a reasonably-priced lunch at a mall restaurant and only splash out to have dinner at a proper restaurant. Rarely have I been disappointed. I would recommend that you do the same.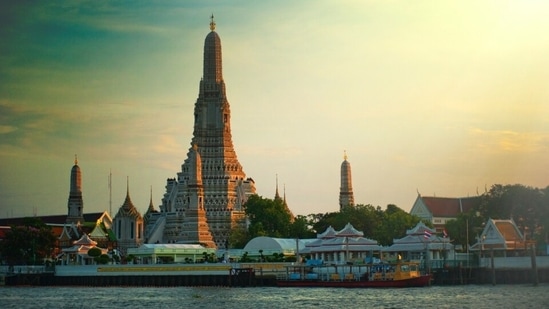 I have still to meet anyone who seriously disputes that Bangkok is a gourmet paradise or the nearest you are going to get to foodie heaven in this earthly life. But when people praise the food in Bangkok, they either the praise the top restaurants (and I wrote about the best new places in Rude Food last weekend) or they praise the street food.
I love Bangkok's street food; I would take it over the much praised street food of say, Singapore. And it is now justly famous. Ever since the Michelin guide gave a star to Jay Fai, an unpretentious stall run by a determined lady who cooks everything herself on a stove on the street, the world has begun to discuss Bangkok's street vendors.
In all this, another category of restaurants often gets ignored. Thailand is one of the few countries in the world where you can walk into a restaurant at a mall and get a terrific meal at a reasonable price. Till about a decade ago when Bangkok's standalone restaurant sector took off, I would always advise visitors to eat in the malls. The food at fancy Thai restaurants at five star hotels was not better than the food at mall restaurants and it was four times as expensive. This was as true of the tourist-friendly restaurants outside of hotels which concierges would send you to for thick, and bland curries and so-called Royal Thai cuisine.
Most times when I am in Bangkok, I eat a reasonably-priced lunch at a mall restaurant and only splash out to have dinner at a proper restaurant. Rarely have I been disappointed.
(Also Read | The Taste With Vir: 20 chefs I enjoyed meeting in 2022)
I would recommend that you do the same. The mall restaurants tend to be run by chains and though people will have their favourite outlets of each chain, the standard is usually pretty consistent at every branch.
Nara Thai
People in Mumbai will know the name because the two enterprising ladies who created the brand have tied up with the Bajaj family (which also runs Yauatcha and Hakkasan) to open two branches in Mumbai.
I haven't been to the Mumbai Nara for a while but the Bangkok restaurants remain solidly reliable. They serve Thai food from all over the country but my favourite dish on the menu remains the fried Laarb balls. Laarb is a slightly sour chopped pork salad from the North (though it could be beef or chicken; it doesn't have to be pork), which they gather into balls at Nara and then deep-fry.
Nara has experimented with other brands. This time, I tried Inka at the Central Embassy Mall which is slightly more upmarket and has a more adventurous and eclectic menu that ranges from a version of Cafe De Paris steak to Beef Cheek Massaman curry.
Greyhound Cafe
When I first went to Bangkok Greyhound was a fashion brand with a shop in Siam Centre. It is now a huge restaurant empire (with a branch in London) that includes Another Hound, a related brand.
I used to go for the Elvis Burger, the Litchi Shake, the Bacon and Egg Fried Rice and the Thai Spaghetti. Some of these dishes survive on the menu but last month at the Central Chidlom branch, service was non-existent. Perhaps they have just expanded too quickly.
Kub Kao Kub Pla
This chain has 21 branches in Bangkok, most of them at malls. It serves very good Thai food at extremely reasonable prices and is usually my default option in Thailand. My favourite is the Central Embassy Branch though this time I liked the outlet in EmQuartier.
Tummour
I had my best mall Thai meal at Tummour on the third floor of Grayson Village last month. It seems like a simple, unpretentious, competitively priced restaurant serving Northern Thai food but it is actually part of a huge chain with 150 branches all over Asia.
It is famous for its variations on Som Tam (the famous Thai raw Papaya salad) but all of the food is good. Worth seeking out.
Taling Pling
Taling Pling is a sour fruit from which the original restaurant in Sukhumvit gets its name. But there are now six Taling Plings all over Bangkok serving variations of the same menu. I did not like the Silom branch but the mall branches are more consistent.
At the mall places, stick to the curries, to grilled pork with a spicy sauce, with a basic krapow and the like and you won't go wrong.
Fatt Chicken Rice
Hainanese Chicken Rice is Singapore's national dish. The Thais have their own version called Khao Man Gai, which is essentially the same : poached chicken with rice, sauces and a clear soup.
But the Thais also have Khao Man Thod which is nearly the same thing except that the chicken is batter-fried in rice flour. I am not a great Hainanese Chicken Rice fan but the fried Chicken Thai version is irresistible.
Fatt offers the Singapore original and it is brilliant, far better than any Khao Man Gai I have eaten in Thailand.
But the restaurant screws up the fried chicken version, proving that there are some things only the Thais can do properly.
Peppina
On the fifth floor of the Central Embassy Mall, is a beautiful casual area with some great restaurants. One of them is Peppina which many people say serves the best pizzas in Bangkok. There are ten other locations all over Thailand.
I liked the food: Italian sausages, and good pasta but the star shaped pizza I ordered was so bad that had it been served in Naples, they would have deported the chef immediately.
It is probably my fault for trying to be different: I should have just stuck to the normal pizza.
Din Tai Fung
I was an early advocate of this dim sum place decades ago when I first ate at the Taiwan original. Since then Din Tai Fung has become a huge global chain and quality has suffered. There are lines outside the Thai branches. But you won't find me in the queue.