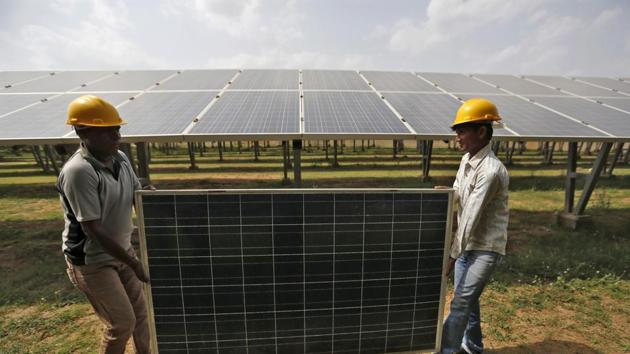 US exits Paris deal: A chance for China, India to lead global energy transformation
The Paris Climate Agreement is a critical milestone. Donald Trump may "deny gravity" but Beijing and New Delhi are working towards a greener future
By Tim Buckley
UPDATED ON JUL 13, 2017 11:40 PM IST
United States President Donald Trump's decision to pull the US out of the Paris climate accords is incredibly narrow minded, and short-sighted. It will undermine America's economy and in doing so hurt the working people who voted him in. However, one country and one climate sceptic is not going to stop the global energy revolution that is already on its way.
India and China are leading the charge to a more sustainable, lower emissions global economy and these technology- and economics-driven trends has reached critical mass and as such, are now unstoppable. India and China are the two most important countries globally in terms of momentum in energy market transformation, achieving economic growth rates more than double the US.
The Paris Climate Agreement is a critical historic milestone. The result has been an acceleration in global investment, renewable cost deflation and technology development.
With economic growth at 7-8% annually, India is the world's fastest growing major economy. Some were quick to raise their eyebrows when minister of state with independent charge for power, coal, new & renewable energy and mines Piyush Goyal announced ambitious plans for India's energy system, but coal imports have already dropped dramatically and India is on track to construct a remarkable 275GW of renewable energy by 2027, underpinned by an economically sensible $1 trillion investment plan.
The cancellation of 13.7GW of coal power projects in May, and another 7GW in Uttar Pradesh coupled with a record low solar tariff of Rs 2.44 per unit ($0.038/kWh), are the strongest indications yet that an energy transformation in India is gaining rapid momentum. The calibre of the global financial institutions who are bidding into India's solar power infrastructure tenders is a strong endorsement of this leadership. It will have significant ripple effects into other transforming markets, as is already seen in the UAE, South Africa, Australia, Chile, and Mexico.
Solar power in India is now cheaper than imported coal and even very competitive with domestic coal plants — something few people would have believed even two years ago. And what's more, the costs continue to decline literally monthly as technology and efficiency improve. Major new coal plant proposals can no longer compete on price.
Another significant transformation is that which is happening with Indian utilities. The NTPC Ltd, despite its deep historical connection to coal-fired electricity generation technology, has recently moved to the forefront of India's energy transition and stands to be the key renewable energy enabler. Its shift away from the increasingly stranded assets of the fossil fuel industry cannot be underestimated.
Both China and India are also rapidly deploying energy efficiency, undertaking massive, transformative electricity grid expansions and renewable energy deployments at historically unprecedented rates in a virtuous deflationary cycle.
Both have committed to accelerating these endeavours, and to stay the course on their Paris commitments. Both reference investment and jobs, as well as the need to control pollution as primary economic and political drivers that make these decisions logical and compelling, regardless of or even taking advantage of American isolationism.
Blackrock (the largest investor in the world) announced in May that "Coal is dead". The message is loud and irrefutable, regardless of one country's leader's attempts to "deny gravity". American isolationism will serve to hasten the Asian Century — and leaves the opportunities of the world's energy transformation open for both China and India.
Tim Buckley, is director of Energy Finance Studies Australasia, Institute for Energy Economics and Financial Analysis (IEEFA)
The views expressed are personal
Close