With ICET, India and US open the tech gates
Feb 02, 2023 09:25 PM IST
While driven by mutual strategic convergence, ICET's net beneficiary is India. But it is not a deal. It is a process that creates opportunities
When Jake Sullivan was born, Ajit Doval had already been an Indian Police Service officer for eight years. The 79-year-old Uttarakhand-born Indian national security adviser (NSA) and his 45-year-old Vermont-born American counterpart could not have had more different lives and careers. But last week, one thing united them. Both knew they were inaugurating a new chapter in the India-United States (US) strategic, military, commercial, scientific and technological partnership — and they were both men in a hurry. The result is the ambitious Initiative on Critical and Emerging Technologies (ICET).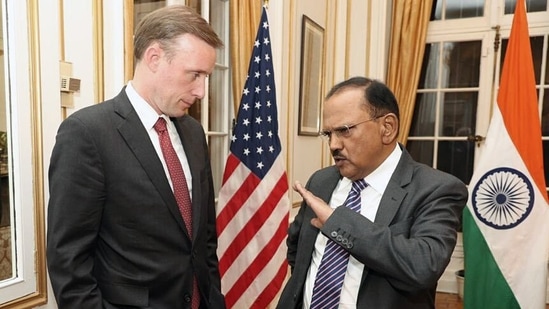 Four features of ICET stand out.
One, it is based on deep strategic logic. For the US, there are five drivers. The first is the desire to see supply chains diversified out of China and prevent it from dominating tech domains and dictating tech standards. India is arguably the only country with the scale, market, geography, talent, tech prowess, data and shared strategic concerns to offer an alternative. The second is to avoid the mistake of the Cold War, where the US-India estrangement saw Delhi get locked into a tight military embrace with Moscow. By engaging in a deep tech partnership, there is potential to strategically, commercially and militarily align Delhi with Washington for the next several decades. The third is to create a trusted tech ecosystem of democracies, which won't steal the intellectual property of US companies and remain friendly: India is an obvious candidate. The fourth is ensuring India's industrial and economic rise to share the burden across the Indo-Pacific and ensure commercial opportunities for US capital on the hunt for geographies outside China. And, the fifth is to meet America's need for science, technology, engineering, and mathematics (STEM) talent; Indian talent is already at the forefront of emerging tech from chip design to Artificial Intelligence (AI).
For India, a tech partnership with the world's pre-eminent economic, tech, innovation, academic and scientific power can open many doors. It can help build India's military resilience, boost indigenous production, and allow the strategic ecosystem to access cutting-edge dual-use technologies. It can give India options beyond Russia — whatever the public optics, Delhi knows well that Moscow's military capabilities are diminished, and it cannot be a sustainable partner for the future. It can help bridge the gap with China. It can aid Indian innovation, provide capital, serve as an additional catalyst for startups and generate jobs. It can embed India in the global semiconductor manufacturing supply chain; it can boost India's nascent private space industry and upgrade its space capabilities; and it can lead to joint research and development of AI and quantum.
Two, while mutual interest has driven ICET, it would be intellectually honest to acknowledge that India is the net beneficiary of the process.
Sample this from the White House fact sheet. In what aligns with the Indian semiconductor mission's aim, the US says it will support "the development of a semiconductor design, manufacturing, and fabrication ecosystem in India". In what aligns with the government's insistence on Make in India, the US is agreeing to "develop a new bilateral defense industrial cooperation road map to accelerate technological cooperation between both countries for the joint development and production". If General Electric's unprecedented application to produce jet engines in India, which the White House has promised to expeditiously review, goes through, it can possibly galvanise other elements of the American military-industrial complex to follow suit. In what speaks to Indian concerns about regulatory barriers that inhibit deeper cooperation, as well as immigration and mobility issues, the US has agreed to set up a standing mechanism under ICET to resolve issues. In a nod to Indian concerns on legislative restrictions, the US administration is officially committing to work with Congress to lower barriers to exports. Even if this takes time, just getting these commitments on paper is a remarkable diplomatic win, but a win that by all accounts didn't require contestation. Washington is listening to Delhi, exemplified in the warmth with which it received Doval and the categorical manner in which top officials asked him what they can do to clear the path for cooperation.
Three, the private sector is a critical player if ICET is to succeed. Indeed, a lot of this American and Indian signalling is to the commercial actors in both countries that both national security establishments want the countries to work together. For India's national security council (NSC) to bring a high-powered business delegation, including many startups, to Washington, was a first. ICET opens the doors for these Indian private sector players to go to the US system, frame their issues, and seek clearances and licences. India's new tech capital led by young entrepreneurs, an observer said, has finally reached DC. For the US NSA and commerce secretary to categorically commit to tech cooperation with India and treat it as a trusted partner at the US chamber of commerce is a signal to the American private sector not to let worries about laws, rules and regulations or public noise about differences on issues such as Russia limit their imagination. India is a friend, we want you to go work with it in national interest, the American administration is telling American capital.
And four, it is crucial to remember ICET is not an agreement. It is not a deal. There is no one metric to define its success. Indeed, there is room for failure because cooperation in all sectors won't proceed at the same pace, and there will be frustration and failures on the way. And that's fine. ICET is a process. It has provided hooks. And now all actors — both NSCs, line ministries, militaries, established defence companies and newer defence startups, research institutions, universities, space organisations and startups, telecom majors, semiconductor ecosystem actors, scientists and technologists — need to pick up the threads, use the hooks and leverage the process. Storm the gates opened up by one of the world's senior-most and one of the world's youngest national security leaders of two great democracies.
The views expressed are personal
Enjoy unlimited digital access with HT Premium
Subscribe Now to continue reading