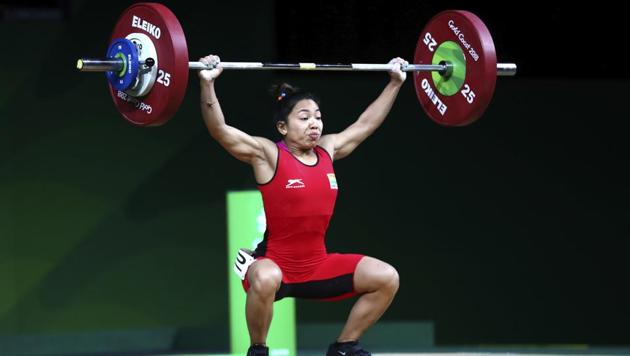 2018 Commonwealth Games: Weightlifting officials fume over lack of physiotherapist
Indian weightlifters Mirabai Chanu and P Gururaja delivered the medals on Thursday but the system seems to have let them down at the ongoing 2018 Commonwealth Games.
UPDATED ON APR 06, 2018 11:08 AM IST
Despite their players bagging a gold medal and a silver to open the country's account in the Commonwealth Games here on Thursday, Indian weightlifting administrators and coaches were left fuming as they did not have the services of a physiotherapist inside the warm-up area to support the lifters. (CWG 2018 live updates)
"We had withdrawn a manager and put in a request for a physio and that was approved by the Sports Ministry. But the Indian Olympic Association (IOA) officials goofed up and did not get him the right accreditation that could allow him entry into the warm-up area to help weightlifters," said Sahadev Yadav, the secretary general of Indian Weightlifting Federation after Mirabai Chanu bagged gold in women's 48kg, India's first gold in Gold Coast Commonwealth Games.
Though weightlifting physio A. Saxena has got accreditation, it allows him to access only the training facilities and not the competition area.
"His accreditation card should have a blue band and correct initials for entry into the competition arena," said an official manning the gate.
Earlier, after P Gururaja opened India's account by claiming silver medal in the men's 56kg category, he raised the issue of physiotherapist's absence after making a do-or-die attempt to lift 138kg in clean and jerk and assure himself the second position.
READ | 2018 Commonwealth Games: Mirabai Chanu wins gold medal in women's 48 kg weightlifting
Gururaja was hampered by niggles in his back and knee and could not get his back properly taped inside the warm-up area because of the absence of a physio. "The physio was not allowed inside and he tried to tell me from outside how to do it all. My back didn't feel as tight as I would have liked and did not support me as much as I would have liked during clean and jerk," said Gururaja.
Mirabai, who won gold, too said that a physiotherapist's presence can make a huge difference during competition time.
Sahadev Yadav was relentless in his attack on IOA for this goof-up.
"Indian administrators are busy ensuring their family members get accreditation and stay inside the Games Village while we were struggling to get a room and accommodate our physio who flew here all the way from India but could not tend to the weightlifters during competition. Players get to have their parents in the Games Village, officials have their wives and children. But there is no place for a physio," he said.
READ | 2018 Commonwealth Games: P Gururaja wins silver medal in men's 56 kg weightlifting
As per the norms set by the Commonwealth Games Federation and the Sports Ministry, officials should not be more than 33% of the total contingent with the rest of them being athletes. But Indian administrators have as usual compromised on coaches, physios and doctors for 'extra officials'. The IOA washes its hands off the situation saying since neither the government nor the IOA pays for these extra officials, their presence doesn't cost the exchequer. However, their number actually impacts the total number of places India get inside the Games Village.
Even the Federation Court of Commonwealth Games Federation noted, in its decision on the needles controversy in which boxing team doctor Dr Amol Patil was reprimanded, that India had just two doctors for a total contingent of 327 -- one of them being the chief medical officer, whose work is more administrative as he will have to coordinate with CGF medical commission too.
Of the 327 people that are here in Gold Coast, 222 are athletes sanctioned by CGF and the sports ministry.
READ | Mirabai Chanu eyes Asian Games glory after golden start to 2018 Commonwealth Games
However, IOA secretary-general Rajiv Mehta rejected all allegations and said the matter was beyond their control as the physio's name was not in the list on the cut-off date.
"They had made the change very late. Still we tried but the organising committee rejected the request to give him accreditation as his name was not in the list as physio. As he has been included in place of an official, Saxena got the privileges that the official had," said Mehta, shifting the blame on Indian Weightlifting Federation for not making the changes in time.
"When New Delhi hosted the Games in 2010, the organising committee had issued accreditations even after the deadline. Same was the case in Glasgow. But here, they have refused to do so," he added.
Whoever's fault, it is the weightlifters that are facing problems in Gold Coast.
Close