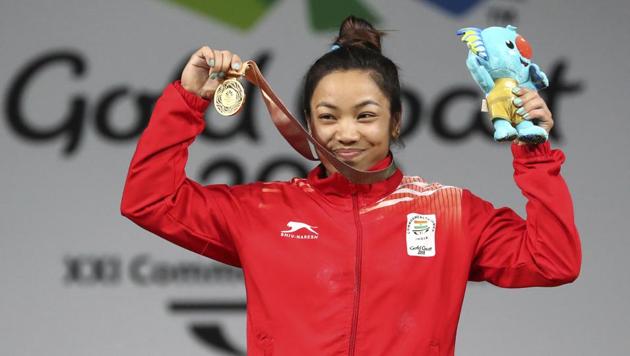 Mirabai Chanu eyes Asian Games glory after golden start to 2018 Commonwealth Games
Mirabai Chanu said that she will now focus all her energy on winning a medal in the Asian Games later this year after becoming the first Indian to win gold in the 2018 Commonwealth Games.
UPDATED ON APR 06, 2018 11:09 AM IST
Mirabai Chanu, who beat the Chinese weightlifters to win the gold medal in the 2017 World Championships in USA, is aware that the Chinese will be coming strongly at her. (CWG 2018 live updates)
That is why she wants to be at her best at the Asian Games in Indonesia later this year.
"The Chinese will be there as also the lifters from Thailand and Korea will be there so that will be a tougher competition and therefore that is my aim. I want to do well in the Asian Games and win gold medal there," Chanu told reporters after winning India's first gold medal of the 2018 Commonwealth Games in the women's 48kg weightlifting on Thursday.
READ | 2018 Commonwealth Games: Mirabai Chanu wins gold medal in women's 48 kg weightlifting
"I knew the competition will not be tough here so therefore went on doing my own without bothering about what others were doing," she added.
Chanu had previously experienced disappointment at the 2016 Rio Olympics when she faltered in clean and jerk after doing well in snatch.
READ | 2018 Commonwealth Games: P Gururaja wins silver medal in men's 56 kg weightlifting
And after the Asian Games, she wants to concentrate on the 2020 Tokyo Olympics where she wants to make amends for her failure in Rio.
"I was very sad and disappointed after the Rio Olympics and I want to do make up for that by winning in 2020. But that will be after the Asian Games. Right now, my entire concentration is on the Asian Games", Chanu said.
Close