American gymnast McKayla Maroney forced to keep quiet about sexual abuse
Dec 21, 2017 07:30 PM IST
McKayla Maroney filed a lawsuit on Wednesday in Los Angeles against the United States Olympic Committee and USA Gymnastics. The suit also seeks damages from Michigan State University, where the team's doctor, Larry Nassar, worked for decades.
Olympic gold medallist McKayla Maroney sued USA Gymnastics (USAG) on Wednesday alleging that the organization forced her to sign a non-disclosure agreement about sexual abuse she endured from former national team doctor Larry Nassar.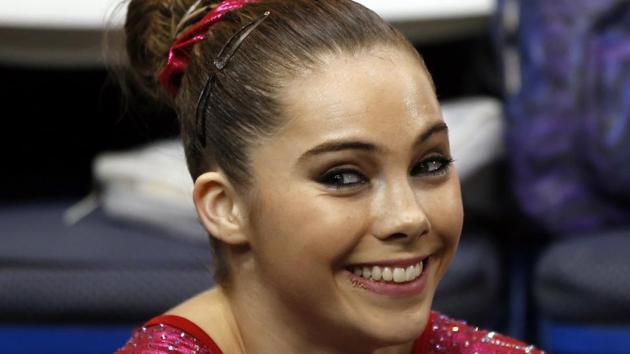 The lawsuit, filed by attorney John Manly in the Los Angeles Superior Court, a copy of which has been seen by Reuters, states that Maroney was forced to sign a confidentiality agreement in December 2016, because she needed money to pay for psychological treatment.
READ | Oscar Pistorius appeals to South Africa's highest court to reduce sentence for murder
The suit alleges Maroney was sexually abused by Nassar from about 2009 to 2013 while she was a teenager. It seeks to invalidate the non-disclosure agreement and seeks unspecified damages.
USAG responded in a statement emailed to Reuters that the "concept of confidentiality was initiated by McKayla's attorney, not USA Gymnastics."
Maroney's court filing states she was forced into the confidentiality agreement "after suffering for years from psychological trauma of her sexual abuse at the hands of Nassar, and in need of funds to pay for psychological treatment..."
This month, Nassar was sentenced by a U.S. District Court judge in Michigan to 60 years in prison on federal child pornography charges that grew out of a sex abuse investigation.
READ | Justin Gatlin sacks coach over doping sting, says is 'shocked and surprised'
Nassar was the team physician for the Michigan State University gymnastics and women's crew teams. He served as the USA Gymnastics physician through four Olympic Games.
Just months after Maroney signed the confidentiality statement, the lawsuit says, USAG "publicly discussed the exact same subject matter it sought to conceal..."
The Wall Street Journal reported on Wednesday that USAG paid Maroney a $1.25 million settlement.
As well as USAG and Nassar, the lawsuit also names the U.S. Olympic Committee and Michigan State University.
A lawyer representing Nassar did not immediately respond to a request for comment.
USGA responded with a statement which says, in part: "In 2016, McKayla's attorney at the time, Gloria Allred, approached USA Gymnastics, requesting that the organization participate in a confidential mediation process."
READ | International Olympic Committee gives Olympic Games life ban to Russian lawmaker in Sochi case
"USA Gymnastics cannot speak to the mediation process, which is confidential and privileged under California law. The process culminated in a settlement agreement that included a mutual non-disclosure clause and a mutual non-disparagement clause.
"The settlement in 2016 was in accordance with state law, despite what has been alleged. At all times, McKayla was represented by Allred, a California-based attorney, who actively negotiated and approved the settlement agreement signed by McKayla."
Allred said she had no comment on the statement by USAG.
The USOC said in a statement it had first learned of sexual abuse by gymnastics doctor in 2015, and that USAG had indicated it was in the process of contacting law enforcement about the matter.