Commonwealth Games 2018: Heena Sidhu overcomes pain barrier to bag silver
Heena Sidhu suffered problem in her trigger finger ahead of the Commonwealth Games 2018 but she overcame it to win silver medal in 10m air pistol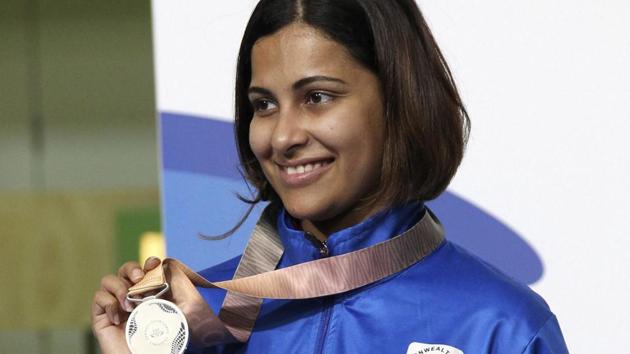 Published on Apr 08, 2018 04:43 PM IST
The ability to overcome pain defines the character of champion athletes. Heena Sidhu, India's silver medallist in 10m air pistol at 2018 Commonwealth Games in Gold Coast, has again shown that trait.
Last year, the shooter's index finger (the trigger finger) started trembling thus affecting her rhythm, and hampering her preparations for the Gold Coast Commonwealth Games. Just ahead of the Games, things got worse. (READ | 2018 Commonwealth Games Gold Coast, live updates)
"Although, I don't know if you can call it an injury, because it was not really a fall and I did not get hurt or anything, but last year my index finger, which is the trigger finger, developed a strange problem. It used to tremble. I did a lot of MRIs and physiotherapy, so we understood there was some nerve involvement and we worked on it. For the past month or so I've been having tingling sensations and now it pins and needles. It flared up a lot in the last week, so I had my physiotherapists come in," Heena explained, after overcoming the effects of the injury to bag a silver medal in women's 10m air pistol competition here.
Heena qualified in second position but soon slipped to sixth position.
"I couldn't feel the muscles properly and that is why I lost in the first 5, 50 is about minimum I would have gotten," said Heena.
The silver medallist at New Delhi and two-time Olympian said she could have given Manu Bhaker a better fight in the final. "If I had paid more attention to the gripping, I would have given her more competition," Heena said.
However, the 28-year-old shooter is richer by the experience and happy with her ability to overcome the pain barrier and win silver medal.
"I feel good. I mean I was facing some problems before going into the finals and the match, but I figured my way around it, and that is what athletes are supposed to do, fight with the challenges."
Close Story