Deepika Kumari wins bronze in Archery World Cup Finals
Samsun, Turkey |
Press Trust of India
Sep 30, 2018 05:52 PM IST
Deepika Kumari went down fighting against Lisa Unruh to clinch the bronze medal at the Archery World Cup Finals in Samsun on Sunday.
India's Deepika Kumari held her nerves in an intriguing play-off to down Lisa Unruh and win the bronze medal in the Archery World Cup Finals in Samsun on Sunday.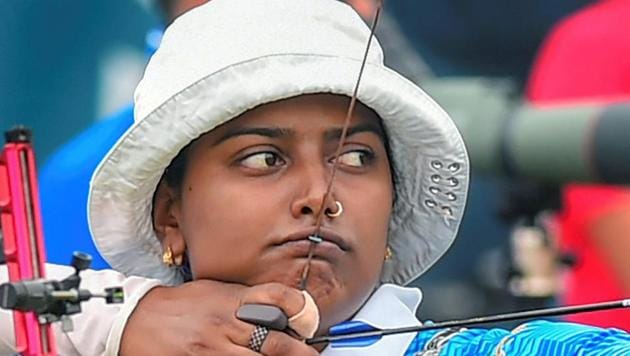 Both the players were tied at 5-5 at the end of five sets, which necessitated a shoot-off. Kumari and Unruh both shot 9 but Kumari won bronze because her arrow was closer to the centre. This was Kumari's fifth World Cup Finals podium.
A draw would have been enough for Kumari to seal the issue in the fifth set, but in the absence of a coach the Indian struggled to keep pace with the timing and shot wide.
Kumari, a veteran in the World Cup Finals with four silver medals, came out on top in the shoot-off.
"This was for the first time I shot at a big competition like this without a coach. But I'm very happy. The stronger the competition, the better we get," Kumari said.
Shoot-off was tense and Kumari said she "started panicking" but motivated herself with no coach to look up to.
READ: Eyeing World Cup 2019 berth, Indian U-16 football team face South Korea
"Most of the times, I end up losing a shoot-off so I started panicking. I told myself, 'I will accept whatever be the result. I will just give my best shot. I'm satisfied with the arrow," she said after the thrilling win.
"Before the Asian Games, I had dengue fever and then I lost my strength. I could not even draw my bow. After the Asian Games, I took a break of 15 days before coming here," Kumari, who returned empty-handed from the Indonesia Asian Games, said.
"I'm happy for the bronze. I wish I could convert this silver/bronze medals into a gold sometime." The Indian archers thus concluded their campaign with two bronze medals and one silver in the exhibition fixture for compound mixed event, which had only two teams, including the host nation.
In his second World Cup Final appearance, Abhishek Verma had clinched a bronze in the men's compound event Saturday.
The de-recognised Archery Association of India had failed to hire a coach for the season-ending meet. Recurve coach Dharmendra Tiwari is indisposed, while Jiwanjyot Singh (compound) has resigned over the Dronacharya Award snub.
Earlier, the third-seeded Kumari defeated eighth seed Lei Chien-Ying of Chinese Taipei 6-4 to start her campaign on a positive note, only to lose to home favourite Yasemin Anagoz in the semifinal.
For the first time, the winners of each stage received automatic spots and were joined by at least three qualifiers on points per division, plus a representative of the host nation.