Here's why the Phogat sisters turned down the opportunity to act in 'Dangal'
Published on Dec 30, 2016 09:20 PM IST
Ritu Phogat had said that all the four sisters were offered roles in 'Dangal', the film based on her father Mahavir Phogat, but they declined as their prime focus was on wrestling.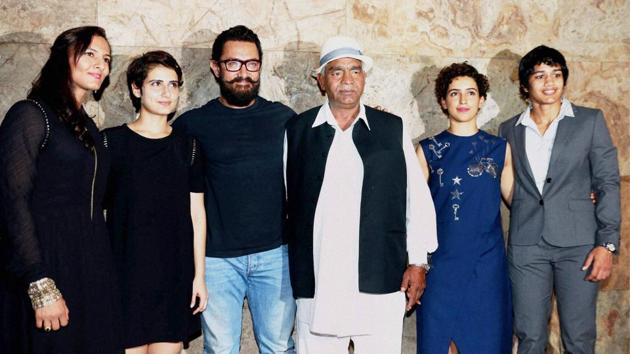 Ritu Phogat had said that all the four sisters were offered roles in 'Dangal', the film based on her father Mahavir Prasad Phogat.
"Acting and wrestling don't go together, they're poles apart. Since the focus is on wrestling, the offer was turned down."
Ritu is unfazed by the tag of being the highest-paid woman player in the second edition of Pro Wrestling League that will commence in New Delhi from Monday.
Ritu, 22, who will contest in the 48kg group, will represent new entrants Jaipur Ninjas. She has received Rs 36 lakh, which is more than Rio Olympics bronze medallist Sakshi Malik, who got Rs 30 lakh.
"It's a great honour to have a big tag associated with my name. I have to think about it while grappling on the mat," she told HT.
The diminutive grappler from Haryana said she would give her best to justify the tag. "There is always pressure. Expectations will be high but I have enough experience to handle the situation, she said.
Despite having young wrestlers in their fold, the Jaipur franchise hopes to make an impression on debut. Coach Mahavir Prasad, Dronacharya awardee and the guiding force behind the team, said the players were healthy and that was a big advantage. "It's a long event and each bout will matter," he said.
The Wrestling Federation of India (WFI) is responsible for technical inputs and has chalked out plans to steer away from controversy this time.
After the first edition, the league was in the news for the wrong reasons. Both Indian and foreign players had alleged the franchises had not cleared their dues, and it made the world body (FILA) take note.
Vinod Tomar, WFI secretary, said to avoid controversy the federation had taken an undertaking from the organisers, ProSportify, to clear the dues in case the franchises didn't do so within a stipulated period.
All the players will be given 40 percent of the fee within three days of the competition. By January 14, they will get another 20 percent and the remaining amount will be distributed within seven days of the competition.
"Ten percent will be deducted as income tax from players who have a PAN Card, while players have to pay 20 percent if they don't have the document," said Tomar.
Close Story
Personalise your news feed. Follow trending topics