Hockey India League: Dabang Mumbai beat Uttar Pradesh Wizards 4-3
Updated on Jan 24, 2017 11:30 PM IST
Robbert Kemperman scored late to guide Dabang Mumbai to a 4-3 win over Uttar Pradesh Wizards in the Hockey India League encounter.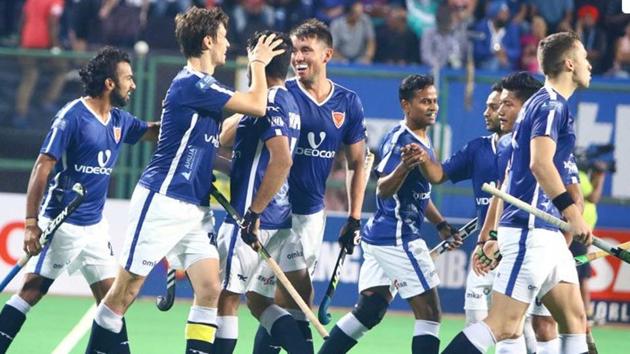 Riding on Robbert Kemperman's late heroics, Dabang Mumbai beat Uttar Pradesh Wizards 4-3 in a Hockey India League match at Mumbai's Mahindra Stadium on Tuesday.
With just a minute to go, the game seemed to be heading towards a draw, but Kemperman's goal with 38 seconds left on the clock gave the hosts their first victory of the season.
The hosts were put on the backfoot as early as the 12th minute when Gurjant Singh was robbed off the ball by Wizards' Edward Ockenden. The Australian ran a few yards with the ball before passing it to Agustin Mazzilli, who slipped the ball under the David Harte's legs to score.
In the second quarter, Mumbai started to create a few opportunities. Looking for an equaliser, they blazed into their opponents' circle, but Roshan Minz's pass was too high for Florian Fuchs to turn into the net.
Mumbai finally reduced the deficit in the second quarter when Harmanpreet Singh flashed his penalty corner into the top right corner in the 24th minute. Two minutes into the third quarter, Harmanpreet scored again. This time his shot flew into the roof of the net on goalkeeper PR Sreejesh's left.
The match opened up in the fourth quarter with both teams bombing ahead with numbers into each other's circles. One such foray led to a penalty corner for the hosts. However, with Gurjant Singh entering the circle before the ball had been injected in, the team's strategy of getting Harmanpreet to shoot was exposed. In a bid to try something new on the retake, Harmanpreet did a half turn before handing the ball to Johan Bjorkman. The Swede's shot was blocked by Sreejesh.
At the other end, however, the visitors took full advantage off a penalty corner. Gonzalo Peillat's push into the circle was turned away from Mumbai goalkeeper David Harte by Florent van Aubel. The ball fell kindly to Ramandeep Singh, who tapped in to the give his side the lead.
Their joy, however, was short-lived as Gurmail Singh ran into the Wizards' circle before crossing across the face of the goal which Kemperman tapped in to give his side victory.
While this was Wizards' first match of the season, Mumbai had drawn their first match. Victory took them to second place in the standings with seven points.
"To score this late into the match shows tremendous character. We had patches of very good play, but our decision making can be better at times. We didn't finish all teh chances that we created," Mumbai coach Jay Stacy said.