Indian hockey team dangerous but inconsistent: Mark Knowles
Former Australia captain Mark Knowles feels the Indian men's hockey team needs to perform consistently in order to win major titles.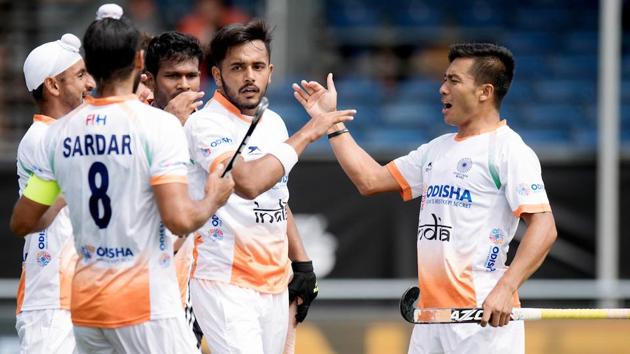 Updated on Jun 25, 2018 08:56 PM IST
Former Australia captain Mark Knowles has achieved everything on the hockey turf and is now doing things which he couldn't during his playing career.
ALSO READ: India stun Olympic champions Argentina in Champions Trophy hockey
The 34-year-old won three Olympic medals, including a gold at Athens 2004, two World Cup and four Champions Trophy titles. Knowles retired after winning his fourth successive Commonwealth Games gold at Gold Coast and is now involved in coaching school kids, running marathons and riding bikes through the Victorian mountains for charity. He spoke to HT from Brisbane and discussed the dynamics of Indian hockey and the frequent change of coaches, besides the tough competition in international hockey.
Excerpts:
Q. How do you rate the current Indian hockey team?
They're very good, continuing to be right there around the mark. They are certainly capable of beating any team. They are very dangerous. But can they do it for seven matches in a row to win the Olympics or World Cup? That is what they'll be working on -- consistency. The best teams in the world are very consistent over a long period. Their younger players have become better and their penalty corner battery is extremely good.
Q. India change coaches at the drop of a hat. How can you maintain any form of consistency in such a scenario?
Yeah they do! As a player, I don't think I'd like it. I would rather have a structure and long-term planning in place. However, the Indian team plays together a lot. So they should also start to drive their own standards as it's not just the coach who'll change everything. In some ways that's what this Indian team has done with all the coaching changes; they have remained a very good team."
Q. How much time should be given to a new coach to put a system in place?
"I can only speak on behalf of Australia. We have four-year contracts with our coaches. I don't know any Australia coach in any four-year Olympic cycle who didn't see out their four years if they didn't want to. Anything less makes it very difficult because it takes a while for players to adapt to totally new feelings, structures, tactics. But we live in a world where success and result is what matters and that is the hardest part of being a coach.
Sjoerd Marijne is gone after coming third at World League Finals, equalling their best result, not as good as they'd have liked at CWG but what he'd have done with another two years in a full Olympic programme... nobody knows the answer.
Q. What must India do to win a major FIH title?
Just continue to play matches. You learn most when you're playing against good international teams. The second thing would be the tactical side. India traditionally have been very good at individual skills, goal shooting and now penalty corners are their strengths but they need to look at the way the best teams in the world --Germany, Netherlands, Australia and now Belgium -- continue to move, change and evolve."
Q. Who are the favourites for the ongoing Champions Trophy?
Belgium or the Netherlands. They are coming out of their club season in Europe. They've played very well in the past 12 months apart from the World League Finals where there was a slip-up. The Netherlands are playing at home, Belgium is just across the border. They would be two highly fancied teams.
Q. And the World Cup?
Hopefully Australia (laughs). Traditionally the World Cup is a tournament where you have to play very well for a long period and this World Cup is even longer. Hence, it'll be the hardest to pick a winner. Any of those top-8 teams in the world could be successful.
Q. The dynamics of world hockey has changed with the emergence of Argentina, England and Belgium. How do you see the competition now?
As stronger than it has ever been. Any team in the top-8 can win this World Cup. If you look at India or Great Britain or teams which are No.5, 6 or 7 in the world, all of them can win the World Cup in December and that has never happened before. Look at the Rio Olympics, No.7 in the world beat No.6 in the gold medal match! I have never played hockey at a time when it has been so even and when anybody can win on any given day. That is very rare in most sports."
Close Story
Personalise your news feed. Follow trending topics