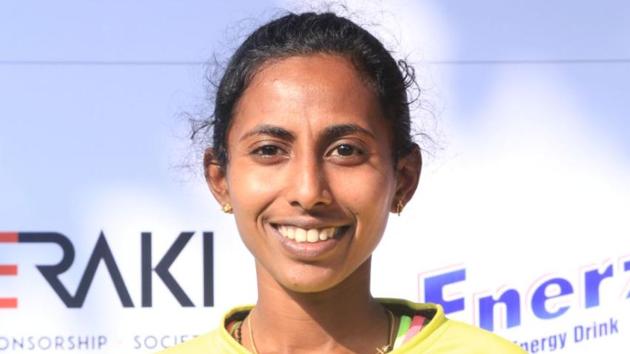 India's 20km walker B Soumya makes cut for 2018 Asian Games
The national women's champion achieved the norm for the August-September Games in Jakarta at the IAAF Race Walking Team Championships in China on Saturday.
UPDATED ON MAY 05, 2018 11:48 PM IST
Women's national 20km walk champion B Soumya sealed her Jakarta Asian Games berth at the IAAF Race Walking Team Championships in Tiacang, China on Saturday, finishing almost a minute faster than the qualifying time of 1 hour,34 minutes, 54 seconds.
Soumya managed to come only 37th out of 79 competitors in the world class competition, but clocked 1:33:54 to make the grade for the August-September Games.
READ | Narinder Batra says India should aim 'double digit' medals in 2020 Olympics
The 2014 Incheon Asiad silver medalist Khushbir Kaur clocked 1:34:59 to miss the mark by five seconds. However, she will also be considered for the national squad.
The other two, Ravina (1:35:47) and Shanti Kumar (1:42:38), weren't impressive and the Indian squad, with 136 points, finished 11th out of 15 nations in the team competition.
Despite competing with the elite, Indian walked failed to improve their personal best. By winning the national title in February, Soumya had raised hopes of further improvement, but failed to click in two major competitions, which suggested she had peaked at the wrong time.
At the Gold Coast Commonwealth Games in April, Soumya was disqualified halfway through the 20km event, while in China she wasn't able to repeat her personal best of 1:31:29.
READ | Neeraj Chopra betters own national record in javelin throw at IAAF Diamond League
The performance graph of Khushbir too has been sliding. She clocked a slow 1:39:21 at the CWG, fading away in the first half of the race to eventually finish 44th. Her personal best is 1:31:40, set in 2014.
In men's 50km event, national champion Sandeep Kumar was nearly four minutes slower than the qualifying standard of 3:55. With a time of 3:59:28 he finished 27th while Jitender Singh came 29th.
The men's 20km event will take place on Sunday.
Close