Will build a 'secular' Ram Mandir in Ayodhya: Tej Pratap
Updated on Mar 10, 2018 06:02 PM IST
The RJD leader said he would build the Ayodhya temple with bricks from Bihar if the party was voted to power in the 2020 assembly polls.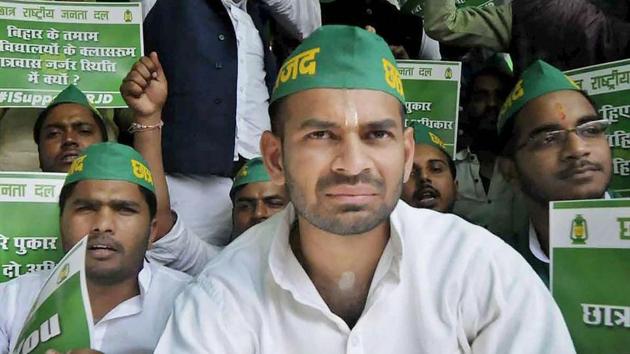 RJD chief Lalu Prasad's elder son and former health minister Tej Pratap Yadav has once again stirred a controversy by stating that he would build the Ram Mandir in Ayodhya with bricks from Bihar, if the party was voted to power in the 2020 assembly polls.
He made the announcement at a wrestling event in Biharsharief on Friday but later clarified that he spoke about a "secular" temple.
"BJP can be decimated if the Ram Temple in Ayodhya comes up as the saffron outfit has long taken political mileage by keeping the temple issue alive," Yadav said, adding that he would build the temple by taking bricks from Bihar. His comments drew loud applause from the gathering.
However, by Saturday, as the statement was trolled on various social media sites, the elder Lalu scion took to micro-blogging site Twitter to clarify that his assertion to build the temple in Ayodhya should not be misconstrued as he had made the statement to rebuff to the BJP which had used the Ram temple issue to befool the people.
"At Bihar Sharif's Dangal programme I had said that the BJP claims about building Ram Mandir, but never puts forward a date. We will create a temple where everyone prays together – Hindu, Muslim, Sikh, Christians– a temple for mankind. And then the BJP will run out the temple issue."
"Only by constructing the temple, we can expose and oust the BJP out of power as it continues to fool the nation," he said, adding that BJP might have won elections in northeast states but would get a crushing defeat in the 2020 assembly polls in Bihar.
"Bihar", he said, "is a different ball game and BJP would bite the dust in the state as it did in the 2015 assembly polls."
State RJD spokesperson Mritunjay Tiwari endorsed Tej Pratap's statement saying the RJD has been a votary of secularism and always favoured construction of religious places of all religions.
" Tej Pratap has called for making a temple for the sake of secularism. The BJP only talks of Ram mandir but never gives a date just to seek votes," he said.
Bihar BJP leaders dismissed Yadav's statement as 'childish talk' as they advised him to recall what his father had said about the Ram Mandir issue.
"Lalu has always taken a line that Ram temple would be constructed on his dead body. Now, his son is talking about constructing the temple. This is hilarious," said BJP's MLA from Darbhanga, Sanjay Sarougi.
Sarougi said the RJD should first apologise to the people of the state for abetting corruption with its party chief having amassed huge property through dubious means.
"RJD should talk about its corrupt practices instead of talking about Ram mandir. Who has stopped them from constructing the temple? Let them do it," Sarougi added.
For Tej Pratap, it is not the first time when he has brushed the BJP the wrong way. In recent time, the Yadav scion has grabbed headlines for his provocative statements against BJP leaders including the Prime Minister, whom he threatened to skin alive.
He also alleged recently that chief minister Nitish Kumar and deputy chief minister Sushil Kumar Modi had let loose ghosts at his official residence 3, Deshratan Marg, a reason why he had vacated it.
At a meeting last year, Tej had also threatened Sushil Modi for not giving a personal invitation to Lalu Prasad at the wedding of his elder son.
Close Story
Personalise your news feed. Follow trending topics