Pro Kabaddi League 2018, Bengaluru Bulls vs Tamil Thalaivas, Highlights: As It Happened
Hosts Tamil Thalaivas take on Bengaluru Bulls in the second match of the day at the Jawahar Lal Nehru indoor stadium in Chennai. This game features two of the top three raid point scorers of PKL 5 in Rohit Kumar (Bulls) and Ajay Thakur (Thalaivas). Rohit (2nd) and Ajay (3rd) have scored 219 and 213 raid points respectively in PKL 5. Follow the highlights of Pro Kabaddi 2018, Tamil Thalaivas vs Bengaluru Bulls, below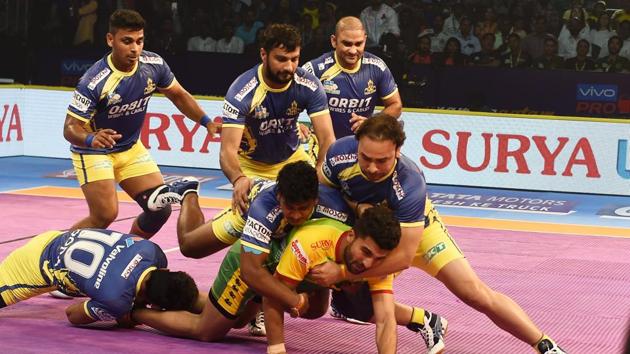 Updated on Oct 10, 2018 10:54 PM IST
22:26 hrs IST
Match ends
Bengaluru Bulls have deservedly won the match as they were better than their opponents in all departments of the game. Pawan Sehrawat was the star of the day for the Bulls as he ended the match with 20 points. The only bad thing for the bulls was that their star raider had to be taken off from the match due to a knee injury.
22:22 hrs IST
Skipper won't be impressed
Tamil Thalaivas' skipper Ajay Thakur won't be a happy man as he didn't get much of a support from his teammates in the match. He won 20 points for his team in the match while the second best was MS Athul with 8 points to his name
22:19 hrs IST
Bulls heading towards impressive win
The hosts have come back into the match strongly in the last few minutes but they haven't managed to make significant damage to the opposition, who continue to rake in points. Three minutes left to be played and Bengaluru lead 46-34.
22:13 hrs IST
All-out
Thalaivas are doing well to reduce the deficit and this time, their defenders come up with a super tackle on Sumit Singh and the Bulls have been all-out. Three more points for the home side as they reduced the gap to 29-43.
22:08 hrs IST
10 minutes to go
Since Pawan Sehrawat has gone off the field, points have been hard to come by for Bengaluru during their raids and Thalaivas have done well to restrict their raiders. The hosts trail 23-40.
22:03 hrs IST
Thakur fighting lone battle
Thalaivas skipper Ajay Thakur is waging a lone battle out there as he wins two rain points to take his team's score to 20 points. He takes his own tally to 10 points. 12 minutes to go and Bengaluru lead 39-20
22:00 hrs IST
Bad injury
Pawan Sehrawat is being taken off the court as he takes a bad fall after winning a raid point. He seems to have injured his knee and his night seems to be over. Big blow for the bulls as he had won 20 points before going off the court.
21:58 hrs IST
Hosts in need of a miracle
Usually in sports, it is said that a match isn't over till it's over. However, this match seems to be like a boxing match where the Thalaivas are taking all the blows. Ajay Thakur was taken out once again by the Bengaluru defenders, while during their raid, Pawan wins another raid point for them.Bulls lead 34-14
21:53 hrs IST
Second half begins
Pawan Sehrawat starts the second half as he finished the first - winning a raid point. He has been simply on fire today and will look to pile on the misery on the hosts in the second half.
21:47 hrs IST
Half-time
Pawan Sehrawat has simply taken over the match for the Bengaluru Bulls and single-handedly taken apart the hosts. Bulls lead 28-12 at half-time courtesy of 17 points from Pawan.
21:44 hrs IST
Another super raid for Bulls
Pawan picks his second super raid of the day and this time, he wins four points for his team. More importantly, four Thalaiva players, including their skipper Ajay Thakur, have to take their positions on the bench . He has taken his tally to 17 points now.
21:40 hrs IST
Pawan keeps Bulls ahead
Raider Pawan Sehrawat is on fire at the moment as he continues to rake in the points. He comes up with a stunning super raid that wins his team five points in the match and takes his own tally to 13.
21:35 hrs IST
Bulls are on fire
Kashiling Adake was taken out during raid but that hasn't stopped them from winning points as this time, Ajay Thakur comes up with an unsuccessful raid as he was thrown out of the court. It was a super tackle and Bulls get two points, lead 13-9 with 7 minutes to go.
21:30 hrs IST
Captain Marvel
Ajay Thakur wins another raid point for his team. Then, Pawan Shehrawat heads to the bench for the first time today as he broght down by the Thalaivas' defenders. Bulls now lead 9-7
21:25 hrs IST
Bengaluru stretch their lead
Ajay Thakur is keeping the hosts within touching distance of the opponents' score as he wins his third raid point of the day. However, Pawan Shehrawat hits back by getting rid of three players during his raid and Bengaluru take a 8-4 lead early on in the match.
21:21 hrs IST
Match begins
The hosts are off to the worst start possible as Ajay Thakur has been taken down by the Bengaluru defenders. Pawan Shehrawat wins a raid point and Bengaluru take a 2-0 early lead in the match.
21:17 hrs IST
Toss
Bengalur Bulls have won the toss and skipper Rohit Kumar has opted for the right hand side of the court. This means that Ajay Thakur's Tamil Thalaivas will start the proceedings with the first raid of the day.
21:10 hrs IST
Recap of first match of the day
U Mumba turned the match on it head in the final few minutes of the game as they registered a stunning 39-32 win over Jaipur Pink Panthers. Siddharth Desai was once again the star for U Mumba as he ended the match with 13 points to his name.
21:05 hrs IST
Hello and welcome
A very warm welcome to the live blog of the second match of the day between amil Thalaivas and Bengaluru Bulls. It is the clash of the titans as Ajay Thakur will be up against Rohit Kumar.
Close Story